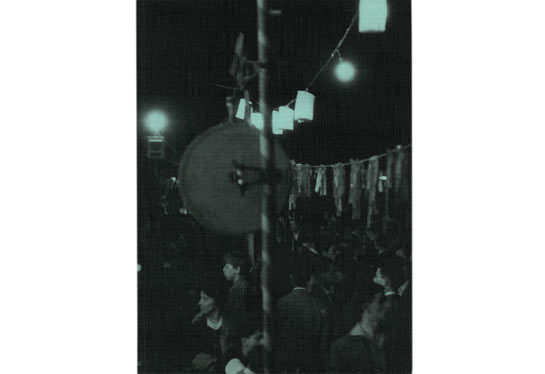 Earlier this year, Photo-Eye asked me for my favourite ten photobooks this year. Compiling such lists at the end of a year is always fun and dreadful at the same time. There was a deadline, long expired at the time of this writing, and I sent in a selection. Needless to say, the year has twelve months, and I ended up finding more books, some of which I added to my list. Plus, I picked my favourite photobooks this year. At some stage, you just have commit to something. Find the list and all the details below. (more)

My favourite photobook this year is Johan Van Der Keuken - Quatorze Juillet. A post like this is not a very good place for a full review; before there's one up here you can check out Jeff's review. What struck me about this book is how it almost perfectly embodies everything that truly makes a great photobook. At a first glance, it doesn't strike the viewer as a lavish affair. For example, it's a softcover - very tactile, and impossible to reproduce online, and it's smallish. But once you look carefully, it is the most lavish affair, and the real luxury here lies in all the small details, ranging from the at first seemingly understated photography, to the very smart design, to the quality of the paper and printing, which so far had every person I showed this book to get weak knees. In a nutshell, it almost feels more like an extremely well made artist's book.
I'm not going to list the other books in my list in any particular order, and I will link to reviews from this blog to provide further information about these books.
Even though I heard that Empty land, Promised land, Forbidden land by Rob Hornstra and Arnold van Bruggen is not supposed to be a photobook per se, not including it in this list would seem like a bad idea. Its purpose might not be that of a classic photobook, but when books about photobooks even include company books, we don't need to be too rigid about categories.
Curiously, thinking back had me pick four retrospectives. Retrospectives often tend to be drab affairs, boring collections of 'best ofs'. Not so these following four. Each of these retrospectives demonstrates that you can cover a photographer's career in engaging, surprising, and ultimately rewarding ways. In particular: From Here to There: Alec Soth's America almost feels a little as if it was incomplete, the reader/viewer is left hanging, and you want to see more, which here, in part, means the resolution of some of the issues discussed throughout the book. Sally Mann - The Flesh and The Spirit mixes some expected classics with many unexpected gems from the collection, some of them even replacing other, seemingly more obvious choices. The topic of the book is not the work of the photographer per se; instead it uses the body as a metaphor for Mann's view of the world. Thomas Ruff - Surfaces, Depths offers photography on newsprint, thus forcing the viewer to confront the photographs themselves, something that Ruff's usual enormously large prints often get in the way of. The imagery leaps from the pages, and the combination with very intelligent writing makes this book a treasure trove of contemporary photography's most cutting-edge star. Larry Sultan - Katherine Avenue focuses on the late photographer's own work, avoiding the famous work he did with Mike Mandel. The book shifts the focus back on a brilliant photographer who, sadly, passed away too early.
Stefan Gronert - The Düsseldorf School of Photography might be THE overview of this famous and groundbreaking art academia, a critical assessment of what it did, who was/is part of it; it is hard to see where the Düsseldorf School can go from here (or maybe it would be more accurate to say: what else all the talking about the School still can teach us). I hate to say this, but still: Maybe we can all move on now.
Joachim Brohm - Ohio offers one (if not the) of the crucial intersections between German and American photography. Maybe seeing this work now instead of a few years after it was made is the key to its success: We are reminded that all talk of "schools" ultimately only serves us to a certain extent. So here is a German photographer taking German-American looking photographs in America, influenced both by German and American traditions.
Is this the Golden Age of photobook making? If it isn't, I really need to hear why. Speaking of Golden Age, there are lots and lots of cutting-edge photobooks being produced in The Netherlands right now, Mariken Wessels' Queen Ann P.S. Belly Cut Off being another one particularly good example. Founds photographs, remixed, recycled, re-edited. Brilliant.
Trevor Paglen's Invisible makes us look at things we have decided so far not too look at. In these times, where so much art is painfully apolitical (and, let's face it, outright complacent!), Paglen's book reminds us what is at stake for all of us, and it reminds us how visual artists can even deal with something that seemingly is out of sight, invisible.
I was aware of November 2 P.M., but until I stumbled upon it the other day (this page has some information) I had no idea there was actually a book. There will be a proper review later, but the book needs to be part of this list.
This list would feel incomplete without a nod to all those photographers who produce their own books. Raymond Meeks' - amwell, continuum, spring 2010 is a particularly good example, a book that I come back to a lot. This is one of the many futures of the photobook, and I can't wait to see more.
I don't speak Danish so I have literally no clue what the text of number 20 of Jesper Fabricius's Kunsthaefte actually says. But it looks close enough to German for me to think I have an idea - and combined with these visual snippets from 1970's Danish hardcore pornography magazines the resulting mix is funny and absurd. It's not even pornography, because everything is cut into tiny pieces. If it's porn, it's dada porn. There has been so much trite work produced around/from pornography (the only shock value usually being how bad the work is), Kunsthaefte 20 easily avoids all pitfalls.
Needless to say, I'm late with my list; and there are many others already, for example 5B4, Sean O'Hagan, Alec Soth.