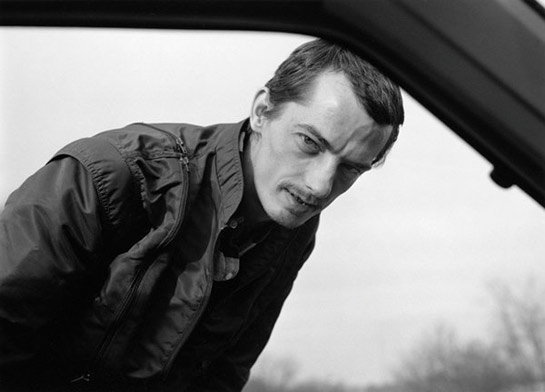 Photography obviously is centered on seeing and looking. It's us - via a photographer's helping hands and eyes - looking at them - the people in the photographs. For that very reason, I have been quite intrigued by Man peering in window, Knoxville by Mark Steinmetz (from South Central) ever since I first came across it. People love to complain that the subjects in contemporary portraiture do not smile. But strangely, I have never heard (or read) anyone complain about the fact that they don't look back. It's not as if they were unable to do that. Just look at Steinmetz's Man! If you could say one thing about him it is that he clearly is looking back. In fact, it's almost tempting to tell him to stop looking at us! (more)

Portraiture is about the process of giving and taking, a strange art which requires a careful balance. Take too much, and you end up with a cartoonish illustration, a one-dimensional cipher, utterly devoid of all depth. Take too little, and you end up with something that, well, we all can easily produce, a bad portrait. The sweet spot is right in between these two extremes, and it seems every photographer has her or his own, unique approach to it.
Some people are much harder to portray than others. All those whose livelihood depends on projecting a certain image are almost impossible to portray well. They simply aren't willing to give anything other than that which they want to give, and no good art is possible here. I'm tempted to think that we are all moving a bit into that direction, given we are so used to switching on our photo faces in the presence of a camera (just look at photograph in Facebook albums, and you know what I mean).
It would thus seem that for a good portrait you need a photographer who knows how to take, but you also need a subject who knows how to give. Maybe the art of the skilled portrait photographer lies just there: To find those very people who will be able to give just the right amount. Asking just the right people for the photographic dance or - if you prefer your metaphors a bit juicier - for the photographic coupling.
Of course, what we are looking at here is not a man. It's a photograph of a man, frozen in time. We could have all kinds of debates about what or how much portraits reveal. But let's just call this photograph just that, a photograph, and let's forget about all that portrait stuff. After all, we all know that we are looking at a photograph, yet we still talk about the man in it as if we were looking at him directly and not at a piece of paper (or a plastic screen) containing his likeness.
So we see this man, and we see the context: The top and especially the upper right corner of the photograph show part of a car. We - through the photographer's lens - look out of a car window, a man is bending down to look back at us. It must be a stranger. Everything in the man's demeanour indicates that he is a stranger. The photograph's title merely identifies him as "man" (thus not at all), and not as "Frank" or "Fred" or whatever his actual name might be. His eyebrows are much too furled for someone who is not a stranger.
People don't just bend down (it's uncomfortable), and they especially don't just bend down to peek into a car window. Your car is your fortress (many people drive their car as if it were a tank - with blatant disregard for what's outside, other cars included): You're inside, everything else, everybody else is outside, to be kept outside. This is part of what makes this brief sequence from the opening credits of the movie Office Space so funny and poignant.
Here is this man bending down to look into your fortress, and we don't know whether the photographer made him do that or not. OK, it's probably safe to say that he did. But the image works because it doesn't look as if he did. It feels like a real moment. It's the tool of staged narrative, if you will, where the staged aspect is invisible, and the narrative one is deeply psychological - less of a narrative than a brief, yet deep feeling of unease. And this is all being created with the simplest of means, a man, a car used as a device (the photographer could have got out of the car), the man's willingness to be game, the photographer's ability to make all of this happen (the ability to see that not getting out of the car was going to be key to the image).
Man peering in window, Knoxville is an untitled film still that is only too happy that it doesn't have to carry the postmodern burden (unlike Cindy Sherman's - as much as I like most of those). And it connects us to the many different aspects of photography - the fact that it's a frozen moment, the fact that photography is all about looking, and seeing.