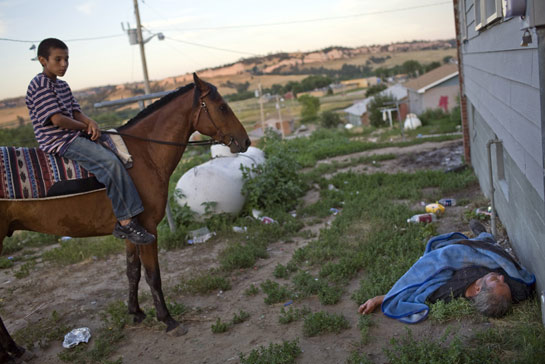 One of the first projects featured on newly launched emphas.is is Aaron Huey's Pine Ridge Billboard Project. Find Aaron's pitch below. (more)
"I have been documenting the Pine Ridge Indian Reservation for the past six years.  Recently I have realized how inappropriate it is for this project to end with another book or a gallery show.
"In 1890 the Supreme Court ruled upon the longest running court case in US History, the Sioux Nation vs. the United States. The court determined that the terms of the 1868 Fort Laramie Treaty had been violated when the Sioux were resettled onto P.O.W. camps, and 7 million acres of their land were opened up to prospectors and homesteaders. These camps are now called 'reservations'.
"The grim statistics on Native Reservations today are the equivalent to that of a 3rd world country, revealing the legacy of colonization and treaty violations. Unemployment on the Reservation fluctuates between 80-90%.  Many are homeless, and those with homes are packed into rotting buildings with up to 5 families.  More than 90% of the population lives below the federal poverty line.  The life expectancy for men is 47 years old - roughly the same as Afghanistan and Somalia.
"More than any project I have done in my career, the ever-evolving Pine Ridge project gives voice to social injustice and a forgotten history.   I want my work to empower the Lakota and other tribes who fight for recognition of the past in order to help give them a chance to move forward.
"Your involvement will help raise the visibility of these images by taking them straight to the public—to the sides of buses, subway tunnels, and billboards.  I want people to think about prisoner of war camps in America on their commute to work.  I want the message to be so loud that it cannot be ignored.
"CREATIVE PARTNERS:  Helping me to turn my photos into powerful illustrations are Ernesto Yerena, an artist and activist who created visuals for the Alto Arizona campaign, and Shepard Fairey, the most prolific street artist in America, known for his street art (OBEY) and the Obama HOPE campaign image.  These collaborations with Ernesto and Shepard will go up on buildings and bus stops all over the country. I hope to also involve some of you with distribution of imagery and possibly even in the role of "wheat pasting" in your towns.  Shepard's image will be uploaded in late Feb.
"FINANCIAL GOALS + BUDGET: $15,000 will provide funding for a nationwide guerilla poster campaign.  $30k, will allow for substantially more visibility, taking the photo essay to subway platforms in NYC and to billboards around South Dakota and Washington DC, where policy makers have the power to make real change on Reservations.  Expenses: 35-40% to printing posters and billboards, 40-50% for ad space, 5-10% Shipping and Travel, and 1% for website setup.
"OUTLETS FOR ACTION:  Through this campaign a website is forming at honorthetreaties.org I hope to build this site up to become a point of reference for those who want to know more about the history and the (broken) treaties of the Sioux and other tribes.  There will be direct links to assist grassroots Native non-profits in places like Pine Ridge.  Our first partner is Owe Aku" - Aaron Huey