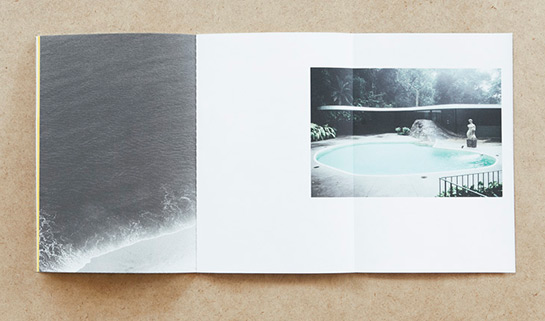 "The notions of body, space and landscape have had a large influence on Brazilian popular culture and artistic production since the last century." writes Benoit Sindt, a French architect, in the short essay in the back of Luís Díaz Díaz's A casa do Oscar. Oscar as in Oscar Niemeyer, the famed Brazilian architect who died a short while ago. The book connects these aspects using two sets of photographs, black-and-white images taken on a beach and color photographs of one of Niemeyer's buildings. The architectural images can be found inside gatefolds. In that way, the pictures are being kept apart - look casually, and the book appears only to contain the beach photographs; yet they are clearly part of the same book, different angles of looking at the idea of "body, space and landscape" in Brazil. With the beach imagery being the stereotypical idea of Brazil, "hiding away" the architectural photographs mimics how the country's cultural treasures are equally hidden away underneath the surface of bikini bodies on the beaches. (more)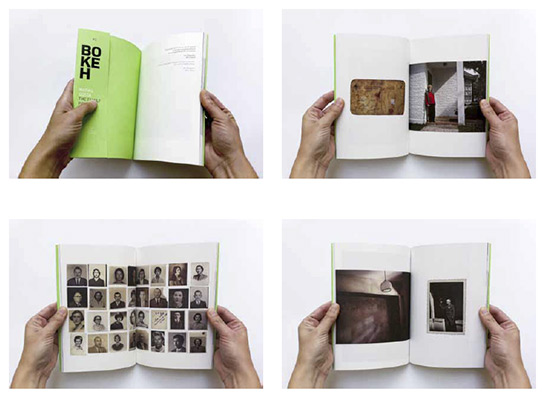 Unearthing one's family history can be a tricky affair in the simplest cases. Having spoken with many people about it made me realize that the simplest cases are usually the ones that don't exist - there always is that gap somewhere, something hidden away, something forgotten (on purpose or just by chance)… Photography, seemingly, offers a good way to get hold of some facts, but it's just as useless as anything else. But one might try! One might try! Matías Costa's The Family Project is another, recent addition to the growing body of projects dealing with family history. Using archival and non-archival photographs, smartly edited and laid out, the book deserves a spot on the radar of all those interested in seeing how family history can be explored, at least to some extent, using photography.
And then there's the road trip across the US. Matej Sitar did it, photographing using a Polaroid camera. America, My Way, the publication resulting from this body of work, presents the trip not as one single/simple delineation. Instead, there are three, in the form of three separate booklets that, however, are connected by the some of the photographs being in the same places in the three books (obviously, not all of them, since in that case you'd have three copies of the same book) and by employing the same captions in the same places. It's probably much easier to see/experience than to describe. Get yourself a copy and have a peek, in particular if you enjoy looking at Polaroid photography.