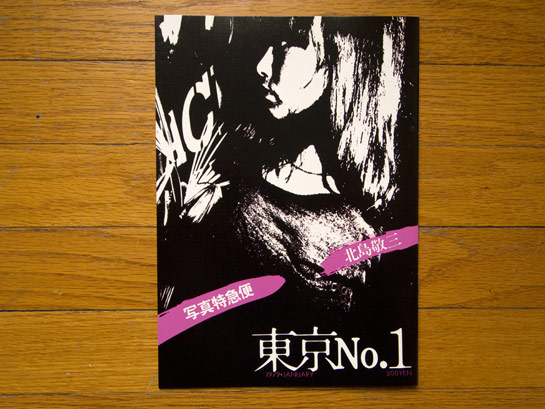 From January to December 1979, Japanese photographer Keizo Kitajima showed his photographs of Tokyo in a somewhat different way. Every month, there would be a new selection of photographs on display at a gallery, often with all kinds of innovative ways to show them (incl., but not limited to, creating prints onto photographic paper hanging on a wall). In addition to the show, every month there was a 16 page booklet, showcasing the work. These booklets have now been reissued, in facsimile, as Photo Express Tokyo. (more)

While connected to the extremely stark b/w aesthetic that had been the hallmark of a new generation of photographers emerging in the 1960s, Kitajima's photographs are first and foremost exuberant. This exuberance, along with the fact that the photographs for the most part are literally just black and white (with grey tones in between absent) makes for an exciting experience. Everything is right in one's face - so much that often, one can't even make out what one is seeing without some effort (on the computer screen, the effect vanishes as the images are smaller than the booklets). There is blur, there is tilt, there are crazy crops… Whatever it takes to crank the visual excitement to eleven.
I have never been able to see one of the original booklets, but this facsimile edition looks amazingly close to what I imagine the originals must have looked like. I keep checking my fingers to see whether any ink has rubbed off (alas, this is not to be had). The 12 booklets come with an additional one, which features a very brief introduction, plus many installation views from the shows.
While the medium photobook appears to be undergoing an interesting evolution (maybe expansion) these days, Photo Express Tokyo serves as a most welcome reminder that looking back can offer quite a few examples of photobooks that went beyond the stale diet of the popular gallery-show-on-paper format. I've taught various photobook classes at art schools, and every time I cover Japanese photobooks, afterwards my students leave the classroom in a different, more excited mood. This is not to say that this aesthetic will work for every photo project (it clearly won't). But there are so many options. Making 12 booklets instead of one book, with full-bleed images and smart graphic design, is one of them.
So here is Keizo Kitajima's view of the Tokyo of 1979, which doesn't look at all like what I would have expected. Given that the corresponding year-long exhibition is long over, this reissue of the booklets is the closest we can get to the experience of watching an artist experiment with the creation and presentation of photography.
Highly recommended.
Photo Express Tokyo (facsimile reissue), photographs by Keizo Kitajima, 208 pages (13 booklets with 16 pages each), Steidl, 2012