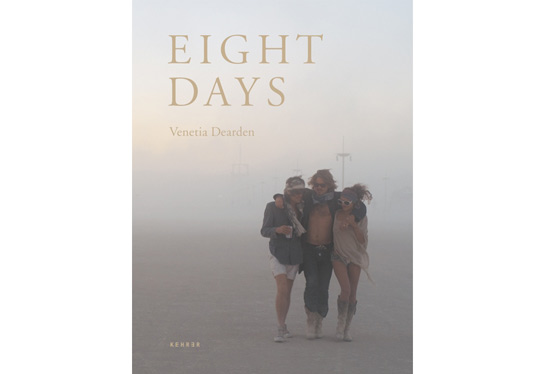 There's something quintessentially American about the road trip, and about a photographer doing one, but of course you don't actually have to be an American to do it. Add to the growing canon of road-trip photobooks Venetia Dearden's Eight Days (there is a micro site, which is really quite micro: all you can do is order the book). The first thing I want to note about the book is that what I've seen online doesn't do it any justice. Of course, that's a big problem for photobooks in general. The actual object often is much more impressive than what you see online. You might get a good idea of this book by watching my video presentation. (more)

I suppose that I'm focusing on this so much, simply because I was so pleasantly surprised when I received the book. I didn't know much about it - other than being aware of the photographer. And the book itself doesn't give too much away in terms of writing. There is no essay by someone smart telling us what we're looking at. There basically are just the photographs, mixed in style and presentation. Some are b/w, some are colour, some are presented full bleed across the gutter, some are small, there are pairs, singles, etc.
To do all that, to throw that all together, you need to do it well, because otherwise it becomes a big mess. Of course, photobooks always need to be done well. But mixing different styles, mixing b/w and colour adds countless complications. Dutch photobook designer Hans Gremmen once told me that a book works well when things "sing" - when they're in harmony. And in the case of Eight Days, they truly are.
This particular road trip took eight days, and it involved Burning Man. Going there adds the enormous temptation to take the kinds of photographs we've seen a lot coming out of the festival. Thankfully, they're absent here. What I imagine to be the spirit of Burning Man (I've never been) is present throughout the book, which makes things to feel a bit more real. One could argue whether festivals like Burning Man have not in fact become the observe of "a society where we have perhaps become imprisoned by our own material desires" (to quote from the micro site) - the same thing with another face, trying very hard to be something different. But I don't think we need to go there.
What Eight Days offers us instead is an experience for our senses that feels like a pretty good reflection of what the experience of doing that road trip might have been: photographs taken while traveling across parts of the country in a van with a group of people. There are landscapes and portraits, close-ups and larger vistas. There also are echos here and there of earlier road trips, done by different photographers.
The viewer is made to move along, made to share some of the experiences, and this is what makes the book so successful. Add to that the fact that there are a great many very good photographs in the book, and you pretty much get a perfect result from eight days on the road in the US. Recommended.
Eight Days, photographs by Venetia Dearden, 80 pages, Kehrer, 2011
(find my video presentation of the book here)