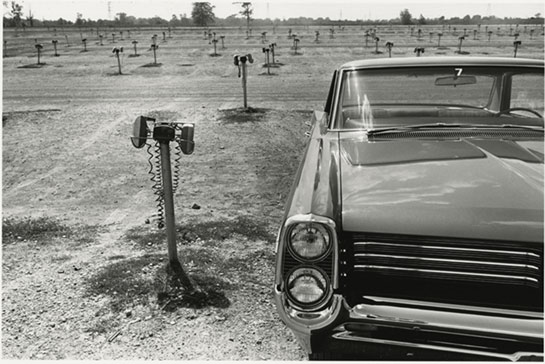 © Lee Friedlander, courtesy Fraenkel Gallery, San Francisco
Walking into an exhibition of work by one photographer, and thinking of another is seen by most as a cynical thing, however to walk into a Lee Friedlander exhibition and immediately think of Gary Winogrand's picture Utah, 1964 seems entirely natural and relevant. (more)

On account of the 1967 MoMA exhibition New Documents, curated by the visionary curator and writer John Szarkowski, it is now impossible to think of Lee Friedlander, Gary Winogrand or Diane Arbus, without the others' imagery appearing in your mind's eye. John Szarkowski not only made these three photographers' reputations - thus writing photographic history at the same time - but he also created a singular (but nonetheless highly individual), vernacular documentary photographer of that period.
Fittingly a portrait of John Szarkowski, framed by Friedlander's car window, approvingly hangs amongst a junkyard of diners, billboards, road signs and countless other props of American everyday life. Like so many before him, the car provides Friedlander with an almost secondary medium to his camera, and like so many before him Friedlander has used the car both metaphorically and literally, to great success.
In 1964 Friedlander was commissioned by Harper's Bazaar to photograph the much-anticipated new Buick and Ford models of that year. Despite his apparent indifference towards cars, Friedlander was given complete control over the project and duly began photographing for his unforeseen commission. The resulting photographs, rejected by Harper's Bazaar, were re-discovered only recently and are now at the Timothy Taylor Gallery shown in full.
It is not surprising why Harper's' then editor-in-chief rejected Friedlander's pictures. Photographed in areas of undistinguished everyday life, the cars appeared as regular and banal as the landscape they were installed into. Friedlander's unmistakable vision saw these cars how he saw all his work - in reflections, obscured by signs, behind lampposts, and surrounded by the suburban detritus that frequents so much of his work. The new cars for Friedlander seemed to symbolise a culture of consumerism so far from the actuality of their products' inevitable surroundings, that by placing these new cars in such environments, Friedlander could critique the very fabric of American society with wit and visual immediacy.
Sporadically the spectre of Friedlander appears in a window; the reflected self-portrait, a perennial motif in his work, places Friedlander directly into the society he is deconstructing and allows his photographs a selfless self-critical reading. Friedlander is not beyond what he is photographing, he is very much a part of it.
America by Car comprises of 192 images. Taken in its entirety, this is a wall of visual chaos that is impenetrable until you get up close and view each image individually. The background of the vast highways of America appear as fragmented collages creating a picture-plain of multi-dimensions; Similar to the principles of Cubism, Friedlander's work subsists in its use of order within perceived disorder.
As an individual and a member of the New Documents three, Friedlander has forged a place in photographic history through his critical but self-effacing critique of contemporary society. The premise of this exhibition - the car - stands as concisely symbolic for a wealth of Friedlander's preoccupations. This exhibition, his first solo show in London since 1976, is an exhibition highlighting his importance as a photographer and accordingly places Friedlander on a deserved pedestal with work that even though nearly half a century old, still resonates with concerns that are very much alive today.
~Christopher Thomas (cmlthomas88@yahoo.co.uk)
Lee Friedlander, America by Car and The New Cars 1964 is on view at Timothy Taylor Gallery until 1st October 2011
(image credits: Lee Friedlander photographs © Lee Friedlander, courtesy Fraenkel Gallery, San Francisco; installation view courtesy Timothy Taylor Gallery)