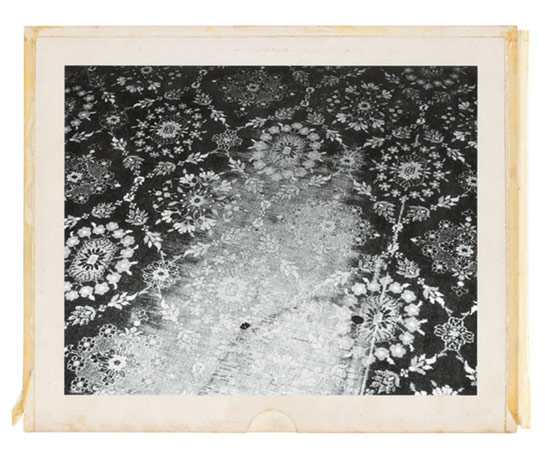 David Bate in his brilliantly concise book Photography- The Key Concepts allows the idea of 'Postmodernism' little more than 15 lines of text. Seemingly fed up with the cyclical debate around the troubled movement, Bate sums it up as the application of codes and conventions of commercial photography to current art photography. This combined with an influx of female artists opposing male domination within the arts at the end of the 1970's seems to be enough for Bate to draw a line under this unending debate. However Bate is just one person, and there are vastly differing views on this dense and convoluted subject1. (more)

In Signs of a Struggle - Photography in the Wake of Postmodernism, a foretaste of the V&A's new super-exhibition Postmodernism: Style and Subversion 1970-1990, the V&A simplify their premise for an exhibition of photographic postmodernism to imagery that makes reference to itself. It was Gustave Flaubert who said "The artist must be in his work as God is in creation, invisible and all-powerful; one must sense him everywhere but never see him."2 Flaubert was the great literary precursor to modernism, a major influence on such important modernist writers as Franz Kafka, and this quote, the antonym of the V&A's new exhibition, makes for a simplified and engaging juxtaposition to the proposed foundation of photographic postmodernism.
The narrow, dimly lit Gallery 38A provides the setting for this exhibition, with 28 photographers represented, each typically showing one image. This exhibition covers a multiplicity of genres, concepts and vastly differing aesthetic approaches. Out of the 28 photographers, just under half are women, but with Clare Strand's Signs of a Struggle occupying an entire open-ended room at the rear of the gallery.
Cindy Sherman and Richard Prince are represented by one image each from their most renowned works, Untitled Film Stills and Untitled Cowboys, respectively. Prince and Sherman, the two artists who most plainly and widely represent the shift to postmodernism, supply these iconic images only for them to struggle to stand alone; isolated from their series, and drowned in imagery on all sides, they fail to appear as revolutionary, as avant-garde as they are widely accepted to be.
Works by Jeff Wall and Keith Arnett vie for attention between other works of limited interest. Jeff Wall's elaborately constructed tableau images, customarily displayed to advertising proportions and backlit -bus shelter like- by a light-box, are here displayed small, within a frame and blunted by the weak lighting of the gallery. The very things that make Wall's work so necessary when looking at the postmodern in photography have here been overlooked.
Past the plethora of postmodern imagery Clare Strand's Signs of a Struggle is given ample display in a dedicated space at the back of the gallery. Nine black and white seemingly archival crime scene photographs are displayed on tattered backing card, yellowing and ripped at the edges from years of storage. Tip-ex numbers and arrows mark the spots where remnants of crimes - fingerprints, trails of blood and perhaps more - are found and recorded. Are these images scenes from a police archive, or just elaborately constructed sets? This question plays on our minds whilst viewing the pictures. Fascinated by the gritty flash-lit scene frozen before us, one wonders where, when and what, and in a very postmodern fashion, 'if'.
Like Strand's Signs of a Struggle, one leaves this exhibition with more questions than answers; the chasm that is postmodernism plays on one's mind, still unanswered, confusing, a toxic waste ground for easy theoretical categorization. If this exhibition is a survey of postmodernism, the implication here is that it has finished and been abandoned to the lions of history. However if we were to take this as truth, what then has filled the abyss left by this theoretical melting pot?
~Christopher Thomas (cmlthomas88@yahoo.co.uk)
Signs of a Struggle - Photography in the Wake of Postmodernism is at the V&A London, until 27th November 2011. Admission is free.
(images kindly provided by V&A - thank you!)
1 See the writings of Douglas Crimp, Michael Fried, Jean-Francois Lyotard and Jeff Wall to name but a few.
2 Letter to Mademoiselle Leroyer de Chantepie (March 18, 1857)