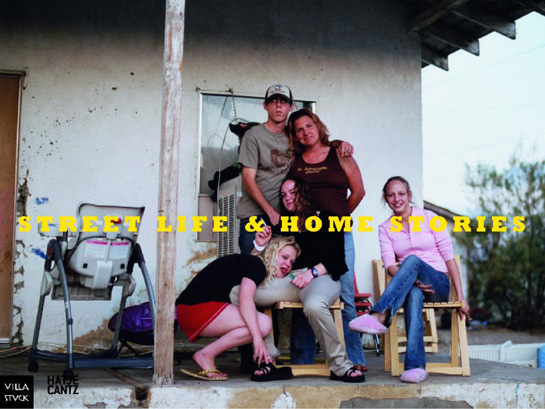 Maybe I haven't looked at enough of them, but photobooks that present a collection often are tedious (and, let's face it, gratuitous) affairs. Someone or some group owns all these photographs, and that might or might not tell us something about the world of photography or about the ideas behind the collection. Much to my surprise - and delight - Street Life and Home Stories: Photographs from the Goetz Collection clearly sets itself apart from those kinds of books. (more)

There is ample talk about what unites the photography in this particular collection - an extended interview with Ingvild Goetz has the collector explain the choices and ideas behind grouping all those photographs together. What is more, each artist is represented with more than one photograph and given her or his own section, with a short introduction. This combination makes the book rather interesting: You get to know an artist a little better, before seeing the images, and you are given an idea how that artist might relate to some other artist you've seen earlier.
Street Life and Home Stories could thus serve as an introduction to contemporary photography. Mind you, of course, it's incomplete - it's no encyclopedia - but it presents many of the most well-known photographers alongside other artists who might not be quite as famous, while exploring how all of that might fit together. There certainly are worse ways to get an understanding of the state of photography than this book.
In fact, I'm increasingly drawn towards seeing how people put things together. A smart collector, after all, is her or his own curator. And I do mean "curating" in the strictest sense here: As much as I would have never considered buying some of the artists in this collection (for example Daniella Rossell's Third World Blondes Have More Money is little more than not very original fluff) having to think about what unites these artists, what they all are saying about this world, is a refreshing exercise.
All of this makes Street Life and Home Stories a much more interesting book than I originally thought. In fact, I'm very tempted to use it for teaching purposes at some stage.
If you want to see the photographs in question in real life, there's an exhibition at Museum Villa Stuck in Munich until early September this year.
Street Life and Home Stories: Photographs from the Goetz Collection, photographs by Francis Alÿs, Nobuyoshi Araki, Diane Arbus, Stan Douglas, William Eggleston, Michael Elmgreen & Ingar Dragset, Ed van der Elsken, Walker Evans, Hans-Peter Feldmann, Nan Goldin, Paul Graham, Evelyn Hofer, Candida Höfer, Sarah Jones, Steve McQueen, Robin Rhode, Daniela Rossell, August Sander, Cindy Sherman, Laurie Simmons, Thomas Struth, Wolfgang Tillmans, Jeff Wall and Tobias Zielony, essays by various authors, 240 pages, Hatje Cantz, 2011