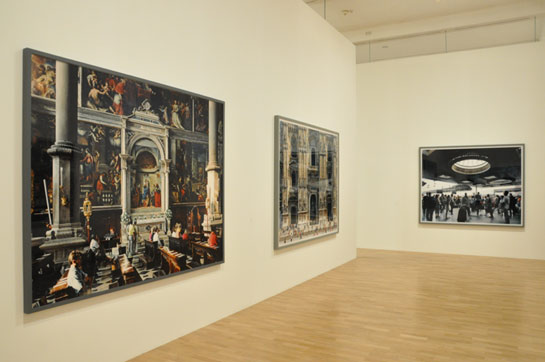 In the retrospective of Thomas Struth currently on at the Whitechapel Gallery, his first solo show in Britain for almost 20 years, the viewer is repeatedly plunged into a state of hypnotic fixation whilst attempting to absorb his relentlessly detailed images. A common theme prevails throughout Struth's career and this exhibition: human achievement and human endeavour provide a loose parameter for his eclectic mix of subject matter. From works of art, space shuttles and progressive technologies to the simplicity of a family portrait, Struth's pictures examine what is possible within the confines of humanity. (more)

On entering the exhibition a group of people, members of the museum going public, stare back at something towering behind you; what should in fact be behind you is Michelangelo's David. Abruptly, and unknowingly, the viewer occupies the space of the photographer; the role has been reversed, viewer becomes subject and viewer again, becomes photographer. This is typical of both Struth's museum and audience series and acts as an illustrative example of his highly conceived method, in which the viewer is implicit in the final work, even before it is made.
Reminiscent of a bustling museum a man in a blue blazer stands partly in shot and marginally out of focus, in front and to his left Albrecht Dürer's commanding yet passive expression stares back. Printed to the exact size of Dürer's painting and consequently to life size, Dürer's gaze in Struth's, Alte Pinakothek, 04.06.2000, confronts the viewer of the image as it would if you were standing in front of the actual painting. The man in the blue blazer -Thomas Struth himself- is notably larger than life-size; the actual photographic representation of the person in the image here is less recognizable, and subsequently more abstract than Dürer's 500 year-old painted self-portrait. The representational quality attributed to the photograph is questioned here by its juxtaposition against a historical painting that one can relate to more, compared to the oversized, unrecognizable Struth in the photograph.
Struth's work is full of such paradox, but more than being just a visual device, his pictures (in particular the museum and audience series) address the role of the spectator in art, the aspect that brings the gallery space -the location of art- back from abstraction, to reality.
Through an arrangement of family portraits where colour and composition respond to muted expressions, and an air of Struth's education in painting comes through most plainly, a room of varying greens on gallery white appears, and insists on the viewer being seated.
Struth's intriguingly titled Paradise project consists of images of dense, tangled undergrowth photographed deep in the virgin jungles of the world. An immeasurable number of greens, with the occasional ochre of dead foliage, knot and weave into pictures as complex as they are formally inspiring. Despite their seeming chaos, these images are however meticulously organised. They are allegorical images; not concerned with jungle, but made to obtain a desired human response. There is an element of psychology in these images that Struth himself has recognised:
"It echoes back to you as an observer. I am the first observer; I make the observing plan. I want to observe something in a way that has a particular effect on subsequent viewers."1
The suggestion here is that in the
Paradise
series, nothing is left to chance, images of irrepressible vegetation become formally and conceptually manipulated to create an envisaged response from the viewer.
Struth's work takes time, it is meticulously calculated with nothing being left to chance, and in this respect his projects and individual pictures perform more akin to painting (at least formally and conceptually) than photography. Because of this element of invested effort, coupled with their chosen display method Struth's images command both time and patience from the viewer, and the more of these you put in, the more his work confesses.
Alongside a handful of contemporaries Struth has reinterpreted the limits of the photograph. His work, more so than any other I know of, is laced with an overwhelming preoccupation with the act of looking; the people in his images look, the viewer looks at the people looking and at one point formerly, Struth himself has carefully looked. His jungles are so dense, so convoluted one has to spend hours gazing into them; past tangled ideas, past branches and foliage, the effort in just standing before these pictures is great. And even in his most contemporary work, the writhing mass of cabling that behaves so wildly and appears so abstract, is all but impossible to unravel with only your eyes.
And so then, what comes of this time consuming, intense form of looking? Perhaps the answer is subjective, or maybe these works succeed so well they elicit a common feeling of calm; a feeling of total immersion in someone else's controlled vision, Thomas Struth's wholly conceived gaze.
~Christopher Thomas (cmlthomas88@yahoo.co.uk)
Thomas Struth: Photographs 1978-2010 is on at the Whitechapel Gallery, London until 16th September, 2011
1 Art Forum No 347 p3- Paradigm Shift- Thomas Struth Interviewed by Mark Prince, June 2011.
(images kindly provided by Whitechapel Gallery - thank you!)