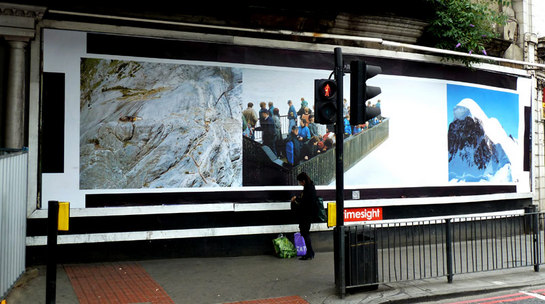 My commute to work is a six-mile cycle from southeast London to the centre of the city. Typically everything stays the same with only the weather seeming to alter. On my trip I may pass 15 or even 20 billboards, each trying to sell something, each littering the air with their contrived glossy advertising imagery. I'm so accustomed to ignoring this type of photography that a couple of days ago I nearly missed the vast, fresh looking triptych that appeared overnight on one of the billboards directly beneath London Bridge. (more)

Obscured by traffic lights and pedestrians and framed by the grime of the metropolis, the triptychs first image is of a gnarly rock-face; cracked and weathered over time it appears mostly baron apart from a dusting of green that rests patchily on its surface. Two cabins sit precariously on its face, one large and to the left, the other small, almost unnoticeable to the right. A Swiss flag flies from the biggest cabin presumably locating the crag in Switzerland. From the next image juts a viewing platform full of tourists, its almost as if they protrude from the previous pictures rock face; they are surrounded by white (fog, snow?) and stare into apparent nothingness. Completing the triptych an imposing mountain-scape looms; crowned with immaculate white snow and backed by a vivid blue sky it appears scrupulously clean and infinite in its extent. London has never looked so overcrowded and grey.
Nothing situates or contextualises this series of three images, just one lone URL is typed above the centre picture, if you're interested it's: http://j.mp/rgps2011. For me however, I'm not sure if I want to ruin the images by finding out their creators or purpose.
The costs of producing a professional photo-book are high, and even before framing and mounting costs are added, making exhibition quality prints can also be extremely expensive. Doubtless, it costs a considerable sum of money to hire a billboard in a noteworthy location and then make a billboard size print, nevertheless the volume of people that see the work and the lack of commercial emphasis attributed to the image is very appealing as an alternative method of show.
Photography has long been credited with being a cheap and accessible way to bring art and information to the populace. Benjamin argued that photography in doing this -by reproducing works of art for the mass- undermined the aura of the artwork. We can now accept this as fact, however despite this deficit of aura, the majority of the Western world, even without seeing the original, can now visualise in their minds eye, Michelangelo's David for example.
This billboard mode of display, this 'public art' is a prime example of the breadth of photography's ability as a medium. It shows the potential of images outside of the exhibition or book and locates photography somewhere entirely separate from other mediums by its capability to be self-effacing, even when enlarged to advertising proportions.
Not only is this triptych a particularly interesting demonstration of the way photography can reach an audience other mediums cannot, it also makes my commute that little bit more visually pleasing.
The London Bridge Triptych has no closing date that I am aware of, and is of course free for all to see and enjoy.
- Christopher Thomas (cmlthomas88@yahoo.co.uk)
(image by Christopher Thomas - click to enlarge!)