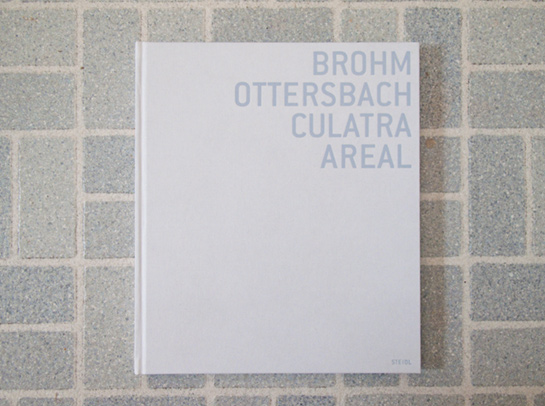 How many collaborations between a photography and a painter do you know? These days, it's much easier to think of a painter and a photographer meeting in court, over some copyright infringement. But a photographer taking a painter's work as inspiration, and the same painter taking the photographer's work as inspiration - there's not so much of that, sadly. But there is at least one such collaboration, between Joachim Brohm and Heribert Ottersbach. (more)

Otterbach used photographs taken by Brohm near Munich as inspiration. Published in Areal, Brohm had spent a considerable amount of time (slightly over a decade) in a small, somewhat decrepit, suburban, semi-industrial area outside of Munich, going back over and over and over again, taking and re-taking pictures (regardless of the weather). The painter transformed these photographs, or parts of them, into his own pieces of art - clearly derived from the photography, but transforming it.
Brohm got inspired by paintings produced by Ottersbach on a small Portuguese island - Culatra - and traveled there to photograph. One would imagine that an industrial area near Munich and a small Portuguese island couldn't be any more different. But as it turns out the artists basically found the same messy state of clutter in both places. Seeing Brohm's interpretations of Ottersbach's painting and Ottersbach's tranformations of Brohm's photographs is fascinating (for the copyright police: the artists know each other and exhibited the results of their collaboration together).
Unfortunately, the only easy way to see Brohm's photographs from Culatra seems to be to buy Joachim Brohm: Color. Color is not a bad book at all, but it is a compilation, so the focus is not exclusively on any one body of work.
There is another book, the subject of this review, Brohm / Ottersbach - Culatra / Areal, and I have not been very successful unearthing ways to find it (this German book seller seems to have copies). Given that the book was published in 2009, by Steidl, this is somewhat surprising - and unfortunate. Culatra / Areal presents the collaboration between these two artists in the best possible way, employing - I'll admit I was surprised given the otherwise often extremely conservative books made in Göttingen - very contemporary design (even different paper stocks).
Given information about the book is so hard to find I produced some photographs - they're a bit lofi, but they're better than nothing (I hope). Needless to say, for those who love to go on a treasure hunt, here's a great book to look out for.
Recommended.
Brohm / Ottersbach - Culatra / Areal, photographs by Joachim Brohm, paintings by Heribert Ottersbach, essays by Kirsten Nordahl and Thomas Wagner, Steidl, 2009