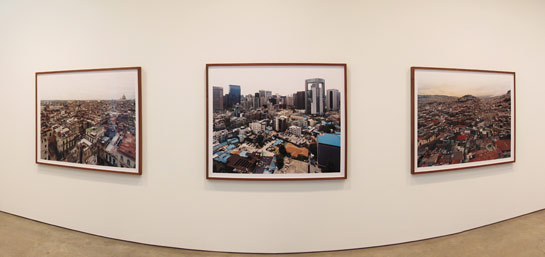 When I asked Seth Boyd and Richard Renaldi what made a good photobook (as part of my conversation with them), Seth said "Good pictures. Just good pictures. That sounds ludicrously simplistic, but that's all I want when I look at a book: to see amazing images." Once you put images on a wall, this becomes even more obvious: A good exhibition features good photographs. Of course, there are OK shows (lots of those) and good shows (fewer, but still a lot), and then there are great shows. Great shows will make you come back (if you can). Great shows are when you think you know what to expect, but once you're there you know that something is happening that's hard to describe. It's almost magical. Great shows are rare. If you want to see a great show right now, see Sze Tsung Leong's Cities, on view at Yossi Milo Gallery (until April 2, 2011). (more)



(click on the image for full-size version)
To produce these images, the artist has been traveling all over the globe, pointing his camera at, well, cities. How do you take a photo of a city? You go somewhere higher up, and you make sure you get as much of the city as you can. It's really as simple as that. If you were to ask what made a great photo, maybe a good first answer would be "a simple idea." If you were to ask how to produce a great show out of great photos, I suppose there's a simple answer, too: Get the photos printed properly, making sure they have the right size, get them framed, and hang them on the wall.
Describing it that way might make you wonder why Cities is so special, and that's where things get a little hard to explain. Everything was done just so perfectly, while looking so effortlessly. It would (must?) have been so tempting to go for effect, to produce billboard-size prints… Well, actually, the artist did go for effect, but it's done in such a subtle and controlled way that you don't even realize what's going on. You just realize that while you are looking at all those cities, you see them through the artist's eyes, in the most perfect way.
Looking at these images on your computer screen won't do, of course. You really have to see these images on the wall to be able to appreciate what they do. I could probably blabber on now, getting all those words out of the art critic's box, talking about the "sublime," for example, or any of the other stuff that so often gets used to inflate review word counts.
But maybe I'll just add this: If you still need to get convinced that photography can be art, then go and see Cities. There'll be photographs on the wall, but you'll be looking at art, at the tremendously inspiring vision of an artist who happens to be a photographer.
Easily the best show I have seen in many months.