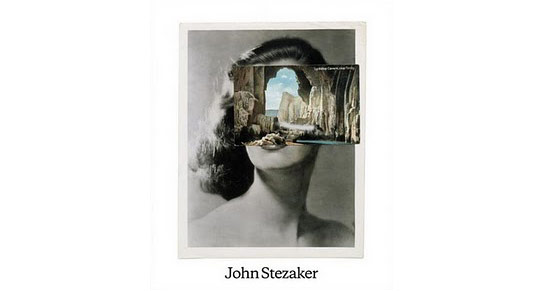 It is an interesting exercise to take the work of British artist John Stezaker out of its usual context and to place it in the context within which pretty much all the images discussed on this blog live. In particular, I'd like to point out that what Stezaker is doing, namely taking two, occasionally just one, sometimes three, images and superimposing or combining them in ways that, superficially, look as if he hasn't even done anything is certain to have the copyright police up in arms. The horror! The horror! But Stezaker's case is a very good example of why simplistic thinking about copyright - all the talk of "stolen" images - has serious repercussions for artists. If you look at the collages, the artist is not just taking images and putting them together somehow (even though superficially, that's exactly what he is doing). He is combining images in ways that most people would have never thought of, with the results in most cases being astounding. Minimalist as they might be, the transformations are huge. (more)

There haven't been too many good books about Stezaker's work, especially not if you wanted to get an overview of the whole. Thankfully, there now is John Stezaker, published at the occasion of the artist's 2011 exhibition at Whitechapel Gallery (you can buy the book here). Given its scope and quality, the book is destined to become the book about the artist for quite a while.
What makes this book such a gem? First of all, there's an incredibly readable and informative essay about Stezaker and his work by Dawn Ades, which delves into the artist's background and which places the work into a historical context. While the images ultimately stand on their own, getting them placed into context, and learning about how the artist came to what he is doing (and why) helps understanding what one is actually looking at. This is particularly important in a case like John Stezaker, where - as I noted above - superficially speaking everything is so simple. Some of the pieces are just little parts of larger images, cut out by the artist (the amazing 3rd Person Archive). The more you look, the more compelling everything becomes, and to know about all the thinking and hard work that went into something so simple adds another, new layer on top of the work.
After an interview with the artist, the bulk of John Stezaker consists of a huge amount of images, a full retrospective. As far as I can tell the book might be the largest collection of Stezaker's work, essentially the one book to get if you are interested in seeing as much as possible.
In a nutshell, John Stezaker presents an important facet of what contemporary image making can mean today. Given the number of images is currently increasing in what looks like an exponential fashion - 60 billion images on Facebook alone - creating new images out of older images is sure to become one of the ways how image-based art can - and will - evolve.
John Stezaker, images by John Stezaker, essays by Michael Bracewell, Dawn Ades, interview by Christophe Gallois and Daniel F. Herrmann, 222 pages, Ridinghouse, 2011