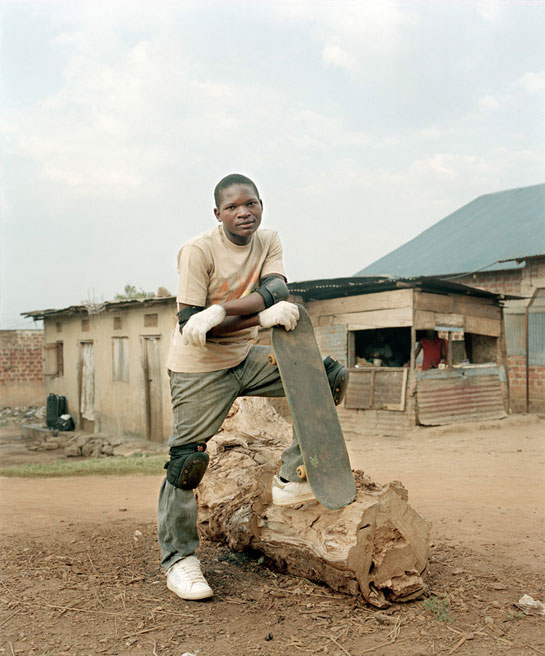 I mostly focus my work on identities, dreams and senses of belonging to communities. I use my camera as a tool for my research. I traveled several times through African countries, but never made any photographic project there before: I was too fascinated by the exotic things I saw, and thought the only (not) interesting point would be the culture difference. I didn't grow up in Africa and have a different background. (more)

But when my girl friend moved to Eastern Democratic Republic of Congo (D.R.C.) for work, she told me how much she was missing our skateboarding sessions. There weren't any concrete roads, and because of security reasons she wasn't allowed to explore the area (there was a war going on). Since I had planned to visit her, she took some vacation and we decided to meet each other in Uganda (the neighboring country of the D.R.C.). We were looking for some concrete to skate on and started to explore the area. After some research we found out that there was a skate park located somewhere in a suburb of Kampala.
When I first saw the skate park, I couldn't believe it… the first and only East African half pipe was located in the middle of nowhere: a field with some goats running around.
I decided to stay a few months in the suburb and every day I went to skate at the park. The kids were still learning how to ride on the board, so I was able to teach them some tricks. Then, we organized a contest in order to promote skateboarding in Uganda, since nobody knew about the game. We visited the local newspapers and TV channels and even invited the National Council of Sports Assistant.
Actually, I only started the photog project during my second trip, a few months later.
My pictures tell the story of the first Ugandan skateboarders, who built a skate park themselves in Kitintale, a working-class suburb of Kampala. Through skateboarding and without government help or support by any organisation, the teenagers of Kitintale have managed to ward off boredom and the negative effects caused by the poverty of their daily lives. When they are on their "Fantasy Island," which is their skate park and their pride and joy, the skateboarders are not far from paradise: they feel freedom and a sense of community which allows them to dream and have prospects for the future.
The teenagers of Kitintale have developed their own identity, and the older ones use this sport as a means of communication within their community to transmit values such as respect and solidarity. They also tackle other daily problems, which many Ugandans suffer from, such as HIV and malaria.
"Nothing is impossible," Faruq, an 18 year old skateboarder, keeps repeating.
Lastly, the project is about how people can create a space of freedom and find a place for happiness.