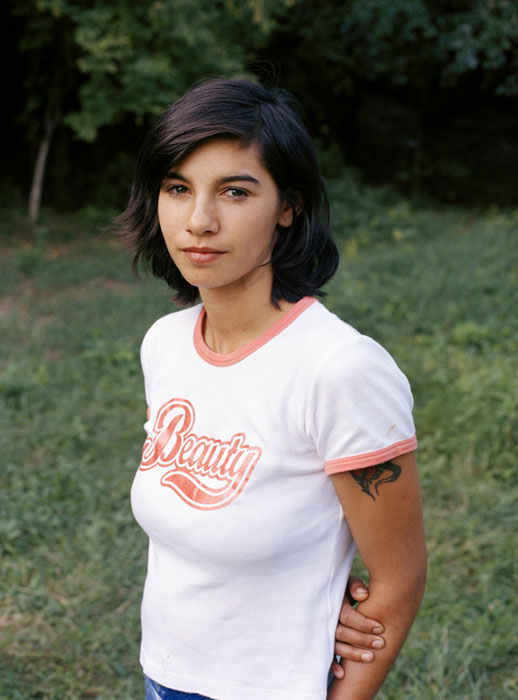 In 1999 my girlfriend and I lived in Romania for a year. We had just graduated and, following my studies in psychology, I really wanted to devote an entire year to photography. That year we met a thirteen-year-old Romany-like girl who led a semi-vagrant life. When I first caught sight of her at a dilapidated fairground, a small tremor ran through me. I hesitated as to whether I wished to meet her. I had strong doubts about wanting to see what her life was like. It was not until a week later, when we came across her again, that I asked her if I might photograph her. (more)

From that day on I met Oana frequently. I wandered the streets in search of photo opportunities; she often wandered the streets to get away from her alcoholic mother. Oana seemed charming and wise, unfathomable and egoistic. It was as though I was looking in a mirror and seeing a younger version of myself. Straight away, it was clear to both of us that we would be friends. She was the first to attempt to comprehend my Romanian. When we encountered her begging at the annual pilgrimage of Saint Parascheva, she attached herself to us, took me by the hand and led us through the mass of people to show us everything. One evening at our home she lay her head on my lap, curled up like a dog and fell asleep. From that moment on I had no other choice but to feel responsible for her.
Oana often came to visit us. We gave her clothes and food; she gave us fleas and lice. We went to the cinema, watched television or read books. We wandered around, baked tarts and argued. We attempted - in vain - to get her back to school. My Dutch logic frequently clashed with her Romanian survival instinct. It took me years to learn that Oana and I could get along only if I adapted to her vision of the world: as if today is all that matters.
After our year in Romania we stayed in touch with Oana - although it was sometimes hard to find her. In 2002, at the age of fifteen, Oana became pregnant for the first time. Her daughter Andreea was born at the beginning of 2003. In 2004, Oana's son Andrei was born. Together with Adi, her boyfriend and the father of both children, they have been living in a relatively stable situation. Their housing situation improved a little, although they still don't have running water, and electricity comes semi-illegally from the neighbours.
My friendship with Oana started because I wanted to photograph her. In many cases taking someone's portrait is the only time I meet that person. I mean: I will send the photo by mail, or sometimes I exchange some emails, but over the last ten years I travelled so much in large parts of Eastern Europe and Asia that it would be impossible to stay in touch with everyone. I met Oana because of photography, but looking back on the last ten years with her I think only five percent of the time we spend together had to do with taking photos.
When I show her the photos Oana sometimes says: in your photos I always look more beautiful than I actually am. I appreciate that compliment, but it is not how I feel. I don't see Oana very often, in fact I see her more often in photos than in real life. It doesn't matter how happy I am with the results of the photos; every time I meet her I realize that in photography you can only show a very small part of a person.
I do not think it is necessary to spend a long time with someone before a photographer can take a good portrait. Of course in the portraits I like there always is a connection, an interaction between the photographer and the photographed. That is essential. But this can happen very quickly. When I am travelling and I ask somebody in the street to pose for me I always completely rely on my intuition: even within a few seconds I feel who will look good in my photos, who will be relaxed in front of my camera. It is fascinating how intense and personal even such short moments can be.
But for me personally photographing someone for a longer period of time is something valuable. Obviously, it is a story I want to tell, but there is another reason: When travelling and taking photos, sometimes circumstances can be tough. During my travels I always try to remain unwary, although I do not think of myself as naive. Obviously, this approach does not always turn out for the best. My treks through regions such as Abkhazia and Nagorno-Karabakh frequently ended up at the police station. In Romania stones are sometimes hurled at me. Perhaps I should shrug my shoulders at such incidents or boast about them (I know it is part of the job) but the reality is that I am very much affected by them. I do not need to be understood in every place I visit, but in every country I do my best to behave like a good guest.
So for me finding people around the world whom I could photograph for many years in a row has something comforting. It is like a safe haven - compared with all the risky places I photographed. It is pleasant that I don't have to look over my shoulder all the time to see if everything is all right. With the people I photographed over the years taking photos is as light as a little dance.
But I admit that every time before meeting Oana I am worried: I don't know if I can find her and if I do, in what circumstances. It is not your most likely safe haven I guess, but in recent years when I meet her I think we do quite well. In the past, sometimes our perspectives on life would clash, but these days when we are together we are very much at ease with each other.
In the summer of 2006 we went with Oana and her family to the old outdoor swimming pool. Adi and my girlfriend were playing with the children, and I asked Oana if I could take her portrait. We walked to the edge of the field, because I liked the soft, filtered light through the trees. She was wearing a t-shirt that day which said 'Beauty', but when I asked her if she knew what it meant she didn't know. It moved me.
I was taking photos and between films I asked her how she was doing, how she felt. She said: now? I said, no, in general, how is your life, how are things going these days? Tears started running down her cheeks right away. I apologised, of course I didn't mean to make her cry. We talked for some minutes and I thought I ruined the moment, so I put my camera away. But she said it was OK, she told me to continue.