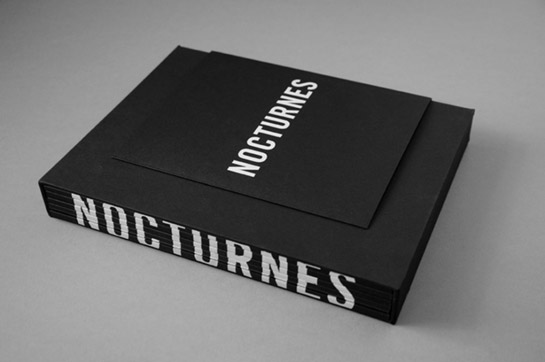 AM Projects is a fairly new multi-national group of photographers, comprising members Aaron McElroy, Daisuke Yokota, Ester Vonplon, Gert Jochems, Olivier Pin-Fat and Tiane Doan Na Champassak. Set up as a "likeminded group," one of the goals is to produce jointly curated publication. When I first heard about this I was intrigued and, I admit, somewhat skeptical. How do you go about producing a group publication that not is just that, a mishmash of stuff, but instead something that holds together as a whole? The (first) answer was just provided in the form of Nocturnes.
Nocturnes is a set of books, one for each photographer, in a slipcase cover. While all having the same size, each book offers its own unique look and feel, with different paper stocks and bindings (one book contains a folded poster), thus mirroring the different photographic approaches. However, the set of books feels very coherent. In other words, the title of the publication can be found going through the individual books like the proverbial red thread. With AM standing for "After Midnight" in the group's name, the idea of night - or the things you might do at night - is explored in six different ways.
What makes Nocturnes so exhilarating is the combination of the approach, the fact that the books do work together so well, and the attention to design and detail by the publisher (Calin Kruse). The set of books looks and feels more like one book, with six different voices telling their individual stories of the night. This is no mean feat given that the photographer work in very different ways, producing a variety of imagery, ranging from Tiane Doan Na Champassak's photos of prostitutes to Daisuke Yokota's imagery of everyday life (which, however, have undergone a hefty process to appear faintly and otherworldly). I am disinclined to pick a personal favourite, since no body of work stands out. Instead, each ones shines in its own particular ways, which makes coming back to the books a sheer pleasure.
It is to be hoped that these photographers will continue to produce books, ideally with this very same publisher. Nocturnes easily is one of the most exciting publications this year (yes, it's that time of year again: Listmas), showing what can be achieved when a group of dedicated photographers get together. Highly recommended.
Nocturnes; boxed set of 6 books; photographs by Aaron McElroy, Daisuke Yokota, Ester Vonplon, Gert Jochems, Olivier Pin-Fat and Tiane Doan Na Champassak; 224 pages + poster; dienacht publishing; 2012