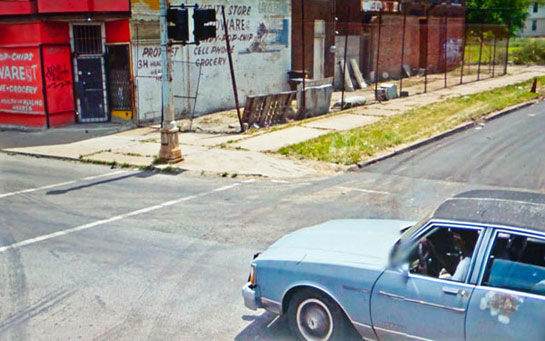 The above image is from Doug Rickard's A New American Picture, which - so far - has been flying under the radar in most unfortunate ways. Culled from Google Street View, A New American Picture demonstrates what can be done with photography even if you don't leave your house. Needless to say, the "leaving your house" aspect shouldn't really be a criterion to talk about photography, but we'll come to that later. Via dvafoto now comes Mishka Henner's No Man's Land: "the margins of our urban and rural European environment as experienced by what appear to be women soliciting sex in liminal, post-industrial and rural settings, captured by Google Street View cameras." (more)

I have the feeling the more of these projects we'll see the more of a push-back there will be from traditionalists. This will probably run along the lines of someone starting out with "I'm all for the use of new technologies" only to then explain that she or he is in fact actually against it.
My own perspective is a bit different, since I frankly don't care so much about technology. For me, the only thing that matters is what someone creates from the use of some technology. And to understand what we see our good-old criteria will do.
By now, we've seen a, well, fair amount of Google Street View photography projects, some (see the above) more interesting, some less so. In terms of what we are in fact dealing with, Google Street View essentially is a photography archive, so you could consider A New American Picture or No Man's Land as the results of what I called earlier data mining. Of course, the most important little detail here is that unlike most photography archives Google Street View consists of images taken by a machine (to be more precise, surveillance cameras also produce photography archives, but those typically are not publicly accessible).
Of course, if we want to treat No Man's Land as a documentary or even photojournalistic project we have to subject it to the same kind of scrutiny that we subject other documentary or photojournalistic projects. It's as simple as that. And the scrutiny has to be based on the same criteria we always use, but not on whether or not the photographer actually left his house or took his "own" photos or "merely" edited the images. Let's face it, the editing process of these Google Street View photographs might contain quite a bit more work and actual thought than you might expect.
I think projects like A New American Picture and, probably to a lesser extent, No Man's Land (which I find a tad too sensationalist) indicate that what we think of as photography or even as documentary photography has changed, and that there can be very meaningful work coming out of mining the Google Street View archives. I hope that there will be more such work, and I hope there will be more debates about this kind of work.
Update (25 May 2011): Taking things a step further: Nicholas Mason