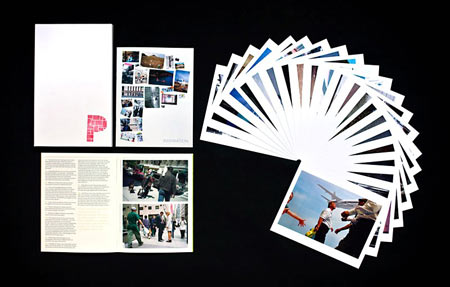 The photography magazine market currently is experiencing some change as small, independently produced periodicals are breaking into a market that - let's face it - had become rather stale. A wonderful example of such a new magazine is Publication, "a biannual periodical produced by street photographers for street photographers," the brain child of Nick Turpin.
The first issue, entitled Inspiration, comes in the form of a booklet plus 22 unbound prints, everything beautifully designed and offset printed. To quote from their press release: "Featuring essays by Michael David Murphy, David Gibson, Hin Chua and Nick Turpin and the work of photographers including Joel Meyerowitz, Tod Papageorge, Martin Kollar, Trent Parke, Roger Mayne and some wonderful images from comparatively unknown Street Photographers."
It's no secret that I'm not the biggest fan of street photography, but I will happily admit that I'm very impressed with Publication. I find it very engaging, and it does a great job talking about this type of photography. I am not sure it will turn me into a fan of the genre, but it has certainly made me appreciate some of its artists' endeavours more - what more could I ask for? So Publication clearly is a magazine that will not only appeal to the fans of street photography, but also to all those who like to get exposed to something different, something they would not ordinarily look at.
Unlike many commercial/standard photography magazines, Publication is not filled to the brim with glossy ads; if I understand things correctly, it's self-financed, and those who buy an issue contribute to the production of the next edition. There is an edition size (2,000), so at some stage Inspiration might actually be sold out. The magazine can be order directly at the website - so if you don't want to risk not getting your copy better put that order in….