One of my finds of a trip to Troubadour Books (which might be the closest you can get to being inside Borges' Library of Babel; see a couple of posts about Troubadour here and here) is a book called "The Art of Retouching and Improving Negatives and Prints" (ThARINP), which, and this I learned just now, is available at the Internet Archive (Needless to say, I prefer my 1948 copy). ThARINP tells you how photographers Photoshopped portraits before they had computers.
Why do this? ThARINP has this to say: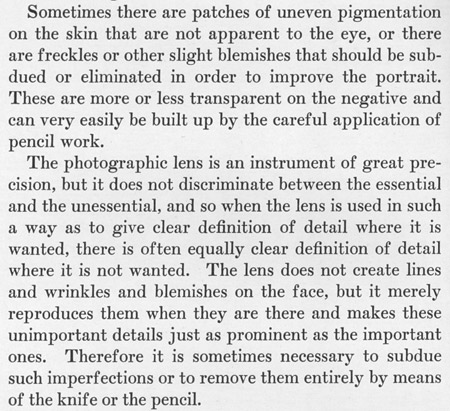 If you're a commercial portrait photographer (remember those ubiquitous portrait studios?) this made a lot of sense. For example, a pimple is the "unessential" that the camera's lens can't ignore - so as the photographer you have to break out your tools and get to work. Here are some of those tools (I rotated this Figure):

Changing the order of the sample images a little bit, here are some of the "before" and "after" examples from the book. The first must have been lifted from an earlier manual:
The second is very subtle, and it's more or less along the lines of the kind of standard portrait Photoshopping we are very used to: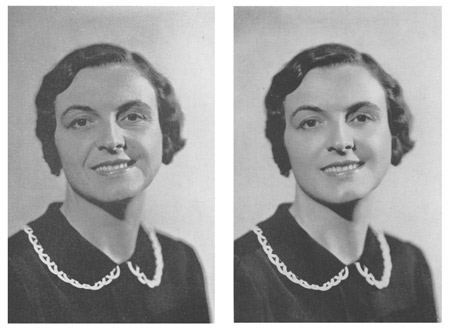 The final example is less subtle, and of course, we are very familiar with it, too. It might come as a surprise to some that even before computers and Photoshop existed photographers were able to so blatantly (and more or less convincingly) manipulate photographs:
Note how the "after" image has a certain look of artificiality - just like those heavily Photoshopped people on magazine covers, which all look as if they were androids.
Of course, if you're familiar with the history of photography, you know that photographers have always been able to change photographs in very drastic ways. But I thought given all this talk of Photoshop it would be good to show some examples of photo manipulations that are sixty years old.
If you want to know how photographers did it, read the book. As I mentioned above, there is a copy available online at the Internet Archive. Of course, going to an actual shop like Troubadour is more fun - who knows what else you might find?