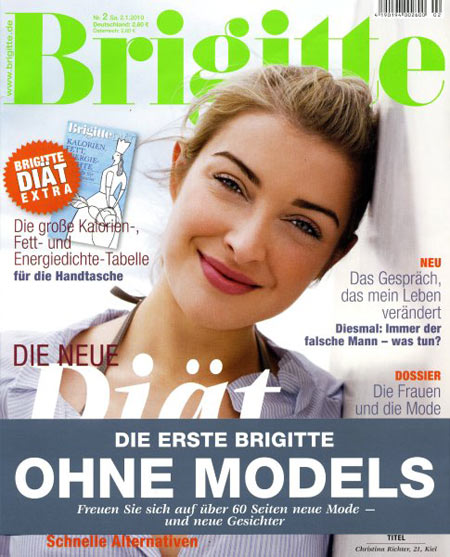 "At first glance the new issue of Germany's Brigitte looks just like a normal fashion magazine. Attractive, perfectly made-up young women show off stylish clothes from labels like French Connection, Escada and H&M, glancing flirtatiously over their shoulders, pouting their lips or staring pensively into the distance. But something about the photos looks different. A prominent tummy here and noticeable wrinkles there reveal that these are not size-zero Amazons straight from the catwalk, but real women. As of the January issue, which hit the newsstands Saturday, Brigitte will use only amateur models in its fashion shoots." - story
It wouldn't be Germany, if this didn't result in a series of complaints, with some criticism very valid: "However the German press reaction to the first Brigitte without professional models has so far been largely skeptical. Many observers expressed disappointment that the women on view in the January issue generally correspond to conventional ideas of beauty. […] Observers also point out that claims to be fighting anorexia are undermined by the fact that the January issue also features the latest version of the Brigitte Diet. The message, according to Die Tageszeitung, is: 'You look really great just as you are — but you'd look even better if you only lost a few kilos.'"
The criticism notwithstanding, this strikes me as an important first step away from only seeing anorexic and/or heavily Photoshopped models in magazines. It will be interesting to see whether other magazines will adopt similar measures - maybe some of them need a little nudging from their readers?
Related: My earlier post Pictures that please us. Also see my conversation with Cara Phillips
Update (5 Jan 2010): Here is something related from my cutting-room floor blog "Redux".