Over the past few years, there has been considerable wailing and gnashing of teeth going on about the funding of photojournalistic and/or documentary work. Needless to say, a democracy relies on its citizens receiving the information they need to be able to make smart decisions, so the implications of what at first sight looks like a mere business problem are considerable. When Rob Hornstra and Arnold van Bruggen decided they wanted to document the area around Sochi (Russia), where the 2014 Olympic Games will be held, their solution was quite simple: They created The Sochi Project, offering people to become supporters and to get unique and exclusive contents in return.
From the website: "For the Sochi Project, we want to travel to the region around Sochi at least twice a year for a month until 2014. Each trip costs us approximately € 15,000. Of this amount, around 20% is spent on travel costs, 20% on accommodation and living expenses, 20% on material costs, 20% on an assistant/translator and 20% on general website, design and project-related costs." The financial situation is laid out openly (a snapshot from earlier today):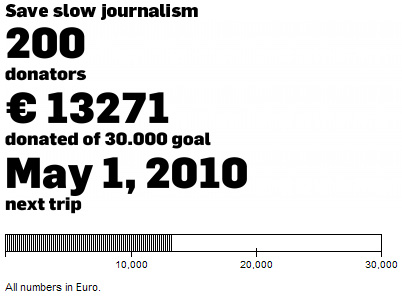 And why a Sochi Project? "Never before have the Olympic Games been held in a region that contrasts more strongly with the glamour of the Games than Sochi. Just 20 kilometres away is the conflict zone Abkhazia. To the east the Caucasus Mountains stretch into obscure and impoverished breakaway republics such as Cherkessia, North Ossetia and Chechnya. On the coast old Soviet sanatoria stand shoulder to shoulder with the most expensive hotels and clubs of the Russian Riviera."
Being a supporter of The Sochi Project not only means you will get access to exclusive contents (which is very impressive, it includes videos, photographs and text from the various travels), but you also get the chance to buy exclusive publications, with "Sanatorium" being the first one: "Sanatorium is published in a limited edition of 350 copies, numbered from 1 to 350. Because we are producing this publication as a thank-you to our donators, we have opted to offer the book at cost price (€25.00). As a result, the book will only be available to donators. Of course, we hope that the publication will also attract new donators. For €35.00 you can become a donator and get hold of a copy of the book."
"Sanatorium" is a soft-cover book, which includes photography from the various sanatoria Rob Hornstra and Arnold van Bruggen went to (many of them portraits), plus scans of older picture postcards. If you've liked 101 Billionaires, you'll like "Sanatorium", too.
But "Sanatorium" is more than just a photo book. It's also an example of how photojournalists and/or documentary photographers can do their work even though funds from the old sources have dried up. You can literally support work you want to see more of by providing funds for it to be produced, with the internet providing the medium that allows this to happen. I really hope to see more photographers adopt this approach.