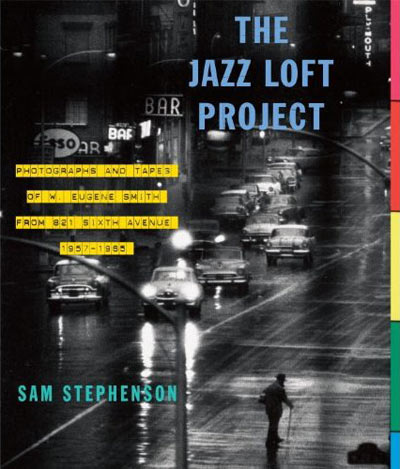 If something unites jazz and photography it is not just their fans' and practitioners' devotion to their respective art forms, but often the level of obsessiveness with which they are pursued. Long before I got interested in photography I noticed that about jazz: One of my best friends in high school used to frequently recite the names of the musicians on Miles Davis' Kind of Blue with a devotion that I had thought to be reserved for church services. And this was not because he was a weird kid (which he wasn't) - switch on any radio station playing jazz, and you will inevitably hear the DJs give the full list of each and every musician for each and every song just played. As much as I enjoy listening to jazz, I've always found this somewhat perplexing - just as I've always found discussions about whether there really is a difference between Rolleiflex Zeiss and Schneider-Kreuznach lenses, for example. Sam Stephenson's The Jazz Loft Project: Photographs and Tapes of W. Eugene Smith from 821 Sixth Avenue, 1957-1965
sits right where jazz, photography, and this kind of obsessiveness intersect. The book is devoted to the photography and tapes taken over the course of eight years by W. Eugene Smith, while he was living in a run-down building (821 Sixth Avenue) in New York City.
When Smith moved into the building, he was still trying to make sense out of his Pittsburgh project. The building itself seemed to provide an idea setting, since rent was incredibly cheap, and there was nobody to complain about Smith literally plastering large areas of the house's interiors with his photographs. The house also happened to be a place for jazz musicians to meet and "jam" - this already before Smith moved in. Smith, of course, took photographs of those jazz musicians, but he also wired the house with microphones and recorded 4,000 hours of material - which included, of course, live jazz music, played by some of the most well-known musicians, but also radio shows, general conversations, anything really.
What are the chances of one of the most important photojournalists sharing a place with some of the most important jazz musicians?
In a nutshell, Smith took two types of images, photos of jazz musicians and photos of people out of the window. There were some plans to turn everything into a book - it's hard to imagine the photographer actually thought that that would really happen, given he was still unable to finalize the humongous Pittsburgh project.
The Jazz Loft Project
contains a small selection of the photographs, along with descriptions of recordings (in some cases with the dialogues actually spelled out). The book is a treasure trove of information for Smith and jazz fans alike. With the photographs being divided between jazz and street photographs, the presentation ends up being a bit uneven, though. And of course, as a reader one is just dying to imagine what the sounds and music must have really sounded like. I wish The Jazz Loft Project
came with a CD or two (there is a radio show about it). The books tends to be a bit more on the jazz side - I think some more input from photo historians might have helped.
That said, The Jazz Loft Project
clearly is a must-buy for any jazz and/or W. Eugene Smith fan - even though it leaves questions still to be answered. But then maybe some of those questions are unanswerable: Why did Smith record 4,000 hours of, well, stuff: not just jazz music, but almost anything? Maybe it's one of those cases where asking 'why?" simply does make as little sense as what one is trying to explore.