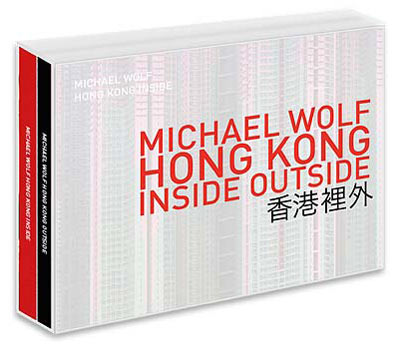 Michael Wolf's Architecture of Density was published a few years ago as part of Hong Kong: Front Door/Back Door
, a book whose rather bad production quality did not do the work any justice. Fortunately, there now is Hong Kong Inside Outside, consisting of two-volumes in a slip case, with one book dedicated to the Hong Kong architecture1.
Those photographs of the outside of huge Hong Kong apartment complexes require the kind of treatment they get in Hong Kong Outside. Where the reproductions in the earlier book for the most part almost ruined the photographer's work, the new book is about as good as it could get. Pages and pages of those facades sans sky - a dazzling experience.
The second, thicker part, Hong Kong Inside consists of the 100 rooms of 100 square feet each, in the city's oldest public housing estate. A single room, sometimes filled to the brim with stuff, sometimes not.
Pairing these two bodies of work makes a lot of sense, even though it makes for a taxing experience for the viewer: An assault of images, so that everybody can (and will!) determine the point at which they become visually completely saturated.
How much do you think you can handle? This, of course, does not mean that once you have seen a few images you have seen them all - no, you will want to go back to the book and discover more details, more things to be astonished about.
The US price might strike some as a bit steep - but given the production quality of the two books, it actually isn't all that much money. Buy two photography hard covers, and you'll easily be in the Hong Kong Inside Outside ball park. These books are well worth the money, a must-buy for photo book aficionados.
1 I was told by the artist that at the time of this writing there are already copies on sale at Aperture gallery in New York City.
Hong Kong Inside Outside, photographs by Michael Wolf, essays by Natasha Egan, Dr. Ernest Chui, Lee Ho Yin, Lynne D. DiStefano, Asia One Books/Peperoni Books, 2009, 352 pp., 205 color illustrations in two volumes