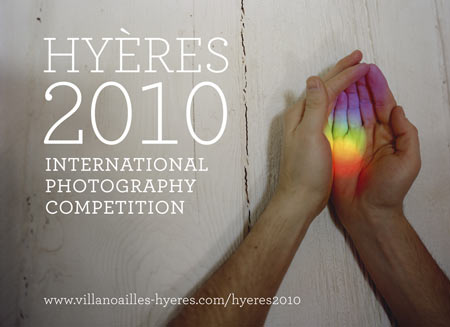 I usually don't advertize competitions or portfolio reviews, for the most part simply because I don't see such announcements as what this blog is about. That said, I am happy to make an exception and announce that registration for the Hyeres 2010 Festival is now open. If you're unfamiliar with Hyeres, it's a little town in the south of France, which holds a rather big fashion and photography festival every Spring. I had the chance to see the festival twice - once as a jury member - and I think it's by far the best opportunity for young artists I am aware of.
At Hyeres, ten photographers - picked from the pool of applicants - get the chance to meet ten jury members over the course of several days. You can think of this as portfolio reviews, except that each portfolio review can take as much time as it needs to - and all that overlooking the Mediterranean Sea. The jury picks a winner, who gets commissioned to do work for the next year's festival, but it's not really about the winning; or rather, the winning is being one of the ten photographers.
Just to give you an idea of what the festival will do if you're one of the ten: They will print your exhibition prints, at the best facilities they have in Paris - at their expense.
In addition to the photo part, there is a fashion festival (with ten young designers showing their work), which includes a big fashion show (which attracts big names from the French fashion scene) etc. It's mad fun, with a lot of extra parties.
So check out the instructions on the festival's website and send in your work!