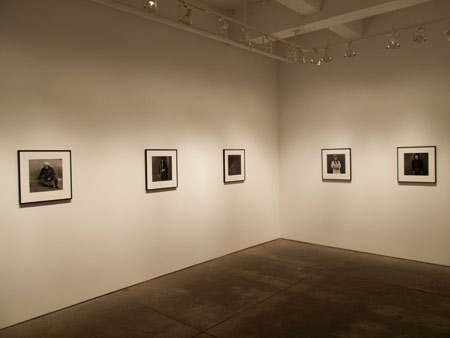 Hiroh Kikai's portraiture was my most memorable discovery last year. I remember seeing his images as part of a group show of Japanese photography at ICP, and I went back to that show a second time just to see those portraits (something I rarely do). A large selection of Hiroh Kikai's portraits is now on view at Yancey Richardson Gallery (until July 2), and, of course, went to see this show several times (the first time for the opening, to meet the artist).
For someone who doesn't spend much time with his subjects - just enough time to take a photo and to scribble down an idiosyncratic description ("A man who said he'd just had a drunken quarrel") - Hiroh Kikai still manages to create amazing portraits. Maybe ten minutes is the right amount of time to get people out of the snapshot mood (when people put on their I-am-going-to-have-my-photo-taken faces) and to prevent them from going into the serious photography mood ("Damn, this is getting boring, but I hope I look presentable when this all is done."). Who knows?
The most important aspect of this work is that you need to spend time with it to discover it, to be able to read what is there. Most of Hiroh Kikai's portraits don't possess an obvious punch, which then fades away quickly - instead, they will start to grow on you. The way the photographs are presented in this show supports, no asks for such an approach: Since the photos are all relatively small (14 by 14 inches), the viewer cannot just walk past them if s/he is interested in seeing them. The somewhat stark overall display on the walls helps, too. Bring some time for this show. You won't regret it.
Related: Review at DLK, Ofer Wolberger's review