"An estimated 20,000 children were born of rapes that occurred during the 1994 Rwandan genocide. Fifteen years later, the mothers of these children still face enormous challenges, not least of which is the stigma of bearing and raising a child fathered by a Hutu militiaman. Over the past three years, photographer Jonathan Torgovnik has made repeated visits to Rwanda to document the stories of these women. The portraits and testimonies featured in Intended Consequences
offer intensely personal and honest accounts of these survivors' experiences of the genocide, as well as their conflicted feelings about raising a child who is a palpable reminder of horrors endured." Presented here are images and testimonies, courtesy of Aperture Foundation.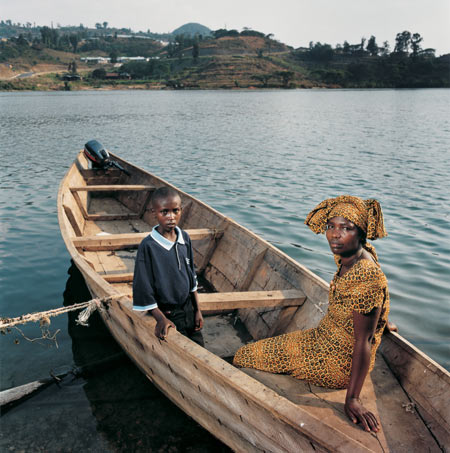 Annet with her son, Peter; © Jonathan Torgovnik
I look at the people who killed our families not necessarily as enemies, but as people who should be forgiven because they didn't know what they were doing. It is beyond comprehension. Even animals cannot behave like the militias behaved. When I hid in the jungle, I lived near a small animal in the bush. It never harmed me. But when I fled the jungle, militiamen cut me with machetes. Now who is more understanding, the beast or the Hutu?
Honestly, I don't understand why the Hutus did this. One of the people who cut me with a machete was a boy who stayed in our home. For years, we shared the same food. My father had given a cow to one of the people who ultimately killed him.
I was still a virgin at the time of the genocide. I didn't know what it felt like to be pregnant, but when I realized I was, I became depressed. I had suffered enough. But when I saw my son for the first time, I felt I had been given another brother. After all that I went through, he is a gift; he's my consolation.
The effects of the genocide are very fresh on us. We have children born as a result of this violence. These children are everyone's responsibility. It is my wish that they will get to go to school, because if you go to school, you have a better life.

Josette with her son, Thomas; © Jonathan Torgovnik
The militia came in the evening and locked us in a house. Then they said they were going to rape us, but they used the word marry. They said they were going to marry us until we stopped breathing. They would rape us at night, and then the next day they would go out to kill. That was the pattern of our lives. Every morning they hit us ten times. After hitting us, we got a different man. Eventually my sister said it was too much, that we needed to commit suicide. I left, but I didn't know where to go.
My uncle didn't welcome me into his house. He asked me who was responsible for my pregnancy. I said if I am pregnant, then it must be the militias since many of them had raped me. He said I shouldn't enter his house carrying a baby of the Hutus and chased me away.
I must be honest with you; I never loved this child. Whenever I remember what his father did to me, I used to feel the only revenge would be to kill his son. But I never did that. I forced myself to like him, but he is unlikable. The boy is too stubborn and bad. He behaves like a street child. It's not because he knows that I don't love him; it is that blood in him.

Valentine with her daughters, Amelie and Inez; © Jonathan Torgovnik
That fateful day, April 9, is when they attacked my husband's house and killed him. We had just ended our honeymoon. We had been married for three months, and I was two months pregnant, carrying a little girl. The head of the militias was ruthless and put a spear in my leg to force my legs apart. I was raped every night, and during the day, they locked me in.
When I was in a refugee camp in Congo, I gave birth to my daughter. Fortunately, she was alive. I stayed there and was raped by other men as they wished. Shortly afterward, I became pregnant again. One day, I boarded a truck that was bringing people back to Rwanda. When we arrived, I learned the news of my family: they had all been killed. I am the only survivor in my family. It took me a long time to be able to sit and talk like we are sitting here now.
I love my first daughter more because I gave birth to her as a result of love. Her father was my husband. The second girl is a result of unwanted circumstance. I never loved her father. My love is divided, but slowly, I am beginning to appreciate that the younger daughter is innocent. I love her only now that I am beginning to appreciate that she is my daughter, too.

Beatrice and her sons, Antoine and Geoffrey; © Jonathan Torgovnik
I'm not happy being a mother—I have two children as a result of rape. These children have distorted my life. The experience of rape has thwarted my ambitions. My children don't have a family and their future is not clear.
I don't know where they belong. They don't know where they belong. All they see is me, but I am not able to sustain myself. I don't see a bright future for them because they don't have a family. They don't have a father. They don't have an address. They don't belong anywhere. They are not recognized by the community.
The genocide started when I was seventeen. I hid in the forest for a night and then decided to go to one of my uncles' homes to hide. I stayed there for only a day before the militias came and one of them took me. But when we reached his house, he told me he had "married" me, that I was now his "wife." He raped me every night and kept me captive. Because of the way I look, I couldn't go out of the house. Hutus were all around, and they would recognize me immediately. I got pregnant, and the result is that young boy, Antoine. This militiaman kept me until the RPF forces were advancing, and he forced me to go with him into exile in Burundi and then to Tanzania. Because I was raped every day, I got pregnant again and, in 1996, had a second child, Geoffrey.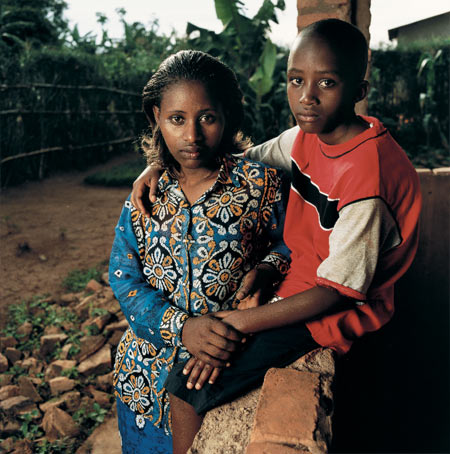 Odette with her son, Martin; © Jonathan Torgovnik
When the militiaman was going to rape me, I begged him kindly, saying, "I'm still a student. I'm still young. Wait. When I finish school, I will be your wife, but please don't rape me." Then he told me, "You don't have time to go to school, so forget about being anyone's wife. Even if you are lucky enough to survive, you will just be a maid in my house."
Before my father died, he told me that I shouldn't get pregnant before marriage. I imagined my brother asking me, "Why are you pregnant? Who got you pregnant?" While I was pregnant with a child of rape, I thought of my father's wish that after four years of secondary school, I should go to a convent and become a nun. I tried to abort the baby, but I didn't know how to do it. I also thought it was a sin against God, so I decided to keep my pregnancy.
I started loving my son when I went back to school and I began studying psychology. That's when I knew that this child of mine needed a lot of attention and that he's innocent. I tried to remove the hatred from me and turn it into love.
I don't think I'm a mother. I don't think I'm a girl. I'm something in between, something I don't know. Because a mother must have a home. I don't have a home. A girl doesn't have a child. I have a child.