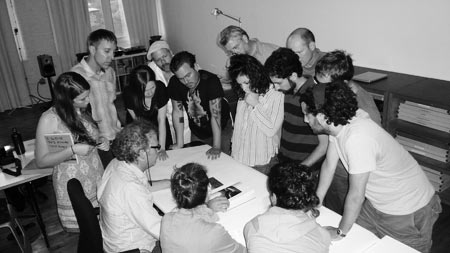 This past weekend saw the Towards a Personal Vision workshop happening, organized and led by my friend Robert Lyons, an accomplished photographer and teacher, and me.
There were two action-packed and intense days with 14 artists (Maya Krinsky, Maria Leutner, Sara Lewis, Andres Marroquin, Lydia McCarthy, Mike Peters, Dan Rybicky, John Saponara, Charlie Simokaitis, Oz Skinner, Nicola Tassoni, Jonathan Taylor, Anna Venezia, Aaron Wickenden), and talk about photography, photography books, photography projects, and then some more photography, from early in the morning until late at night (over dinner and drinks). I'm very pleased with the workshop, even though it proved to be exhausting for everybody.
Given everything worked out in such a productive manner, Robert (pictured above - photo by Andres, with a little editorial postprocessing by me) and I are already thinking about another version of the workshop - I'll make sure to announce things here.