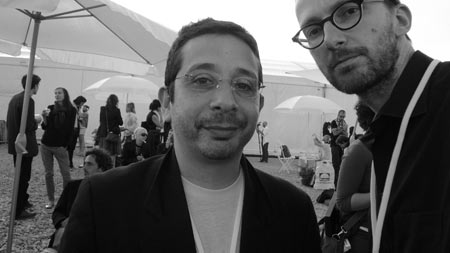 With the fashion bit of the Hyères Festival International de Mode et de Photographie in its 23rd year, the photography part is a bit younger. For ten years now, photographers have been coming to Hyères to meet up with a jury to show and discuss their work. The masterminds behind the photography competition are Michel Mallard (pictured above) and Raphaëlle Stopin (who was so busy organizing that she managed to avoid getting caught by me for a photo).
And it needs to be stressed yet again: The idea of the photo competition really is for the photographers to get to interact as many people as possible, some of which might be otherwise hard to meet - with the prize at the end being not the most important bit. So this year, one photographer got signed up by an agent five minutes after the public had been allowed in, and another photographer got a commission by one of the jury members - and that's just the tip of the iceberg. Any photographer reading this - whose profile matches the target group - should really think about applying, it's a fantastic opportunity (and you get to see a real fashion show at the end and party at the casino) - and even though the photo competition is part of a fashion competition, it's not only about fashion photography (more on that later).
As I mentioned before, I was fortunate enough to be a member of this year's jury, and I shared jury "duty" with (in alphabetical order): Rémi Babinet (worldwide creative director, BETC advertising agency, Paris), Elaine Constantine (photographer, London), Sophie-Anne Delhomme (art director, Courrier International, Paris), Daren Ellis (creative director, See Studio, Ten magazine, Big, London), Marta Gili (director, Jeu de Paume, Paris), Fumiya Sawa (curator and artist, Tokyo), David Sebbah (senior art director, T - New York Times style magazine, New York), Melvin Sokolsky (photographer, Los Angeles - shown above talking about some of his iconic photography), Urs Stahel (director, Fotomuseum Winterthur, Zürich), and Gijs Stork (publisher, Veenman Publishers, Rotterdam).
Deciding who to give the prize to not surprisingly turned out to be difficult - the variety of work presented was as big as the difference in the backgrounds of the jury members themselves. Bits of the discussions even covered some of the ground seen on this blog over the years. But at the end, every jury member was happy with the final choices.
PS: Given Andrew's recent lack of self-inflicted mug shots someone had to fill the gap.