I'm fairly used to the occasional post making the rounds a little bit, which means in the circles of people who like to look at contemporary fine-art photography. What I'm not used to is a post making a bit of a bigger splash.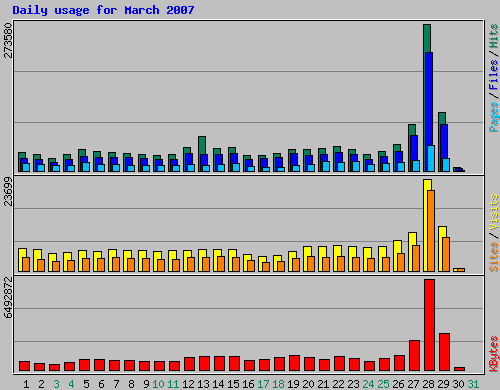 It's not hard to miss the peaks in hits/visitors/transfer rates graphs there, and that's all due to the post What makes a great photo?, which I regard as a collective post of sorts, since my contribution to it does not exceed the individual contributions of the photographers and bloggers all that much.
I had hoped to spark some debate, and it looks like I have succeeded (see some of the discussions here and here and then, of course, here and here). For those too lazy to sift through the comments, here are my personal favourites (if my email signature block wasn't too long already I'd be adding those):
The problem with "fine art photography" is that most practioners try too damn hard on the "fine art" part and not nearly enough on the "photography" part. ("DaShiv")
If you cant (sic!) consume it and your granny doesnt (sic!) smile when she sees it - there's a good chance it'll be a fine art photograph. ("sgt.serenity")
PS: I find it interesting that I yet have to see someone noticing that only two photos got picked twice or that a large number of those photos were b/w. I don't think there's too much meaning to be attached to these observations, but nevertheless I find them interesting.