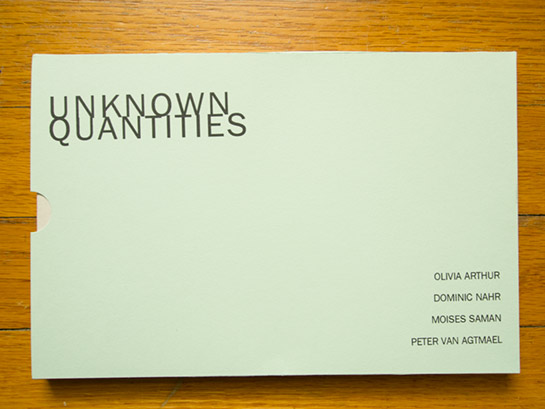 Using the title of this publication, Unknown Quantities, as the jump-off point for all kinds of comments is tempting, especially given the brouhaha over a group of mostly older Magnum members descending on Rochester, NY, to produce more Postcards from America. I'll try to resist that temptation, to instead focus on what these four young Magnum photographers have published. (more)

Unknown Quantities presents the work of Olivia Arthur, Dominic Nahr, Moises Saman, and Peter Van Agtmael in the form of four newsprint publications in a small box (for the very reasonable price of £10 plus shipping). If you're not familiar with the work of these photographers, here's your chance to get a good first look at what they're up to.
Arthur presents her work from Saudi Arabia, portraying women and their situation there. Nahr covered the successful uprising in Egypt against former president Mubarak, and you can see some of his photographs here. Saman spent time in Libya, during the brief civil war that ended with the ouster of former strongman Qaddafi; his publication pairs his own photographs with screenshots showing official government imagery. And Van Agtmael presents what from what I hear is going to eventually be a book, a compilation of the photographer's work from Iraq, Afghanistan, and the US, tying together things that usually don't get connected or that at least do not get shown together.
No blog post or article or review or whatever else will ever be able to finish the zombie of a debate whether photojournalism is dead or not. But if you need proof that it is in fact alive and well and that there is a young generation of photojournalists producing very smart and very engaged work, then Unknown Quantities might just be your fix. Get yourself a copy. It's a treat (and it's a steal).
Unknown Quantities, photography by Olivia Arthur, Dominic Nahr, Moises Saman, and Peter Van Agtmael, 4 individual 24pp newsprint publications, Fishbar, 2012