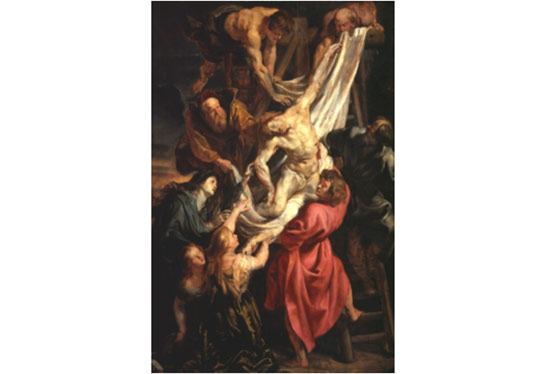 Gravity in art is a theme frequently employed but seldom acknowledged; it is often overlooked because even though we are consistently benefited by its presence, it tends not to intrude on our day-to-day life. Unlike some of the principal issues tackled in art gravity simply goes about its duty and rarely if ever digresses from its purpose. However despite its apparent 'background' nature, gravity has played a significant role throughout the history of art and can still be seen in works of contemporary art today. (more)
In Falling Up - The Gravity of Art, an exhibition currently on at The Courtauld Gallery, the curators (students of the Curating the Art Museum MA program at the Courtauld institute) use the praxis of gravity to establish a dialogue between works of historical art and contemporary art with particular emphasis on recent art photography.
The works in the exhibition are extensive in their concepts; various pieces of painting, drawing and engraving occupy the 17th and 18th century, including a work from Rubens: The Descent from the Cross, 1611. This painting, a sketch for the central panel of the altarpiece in Antwerp cathedral, depicts an apparently weightless Christ being taken down from the cross after crucifixion. The noticeable ease in which Christ is being lowered from the cross is evident by the surrounding figures expressing little effort in bearing His weight. Perhaps an obvious nuance when pointed out, but this weightlessness in spite of gravity gives emphasis to the perceived sanctity of His body.
I elaborate on this painting because of the contrasting work of contemporary photography that seems to have been sited against it. Even though these two works occupy different walls on apposing sides of the room, their similarities are striking. Clare Strand's Aerial Suspension, 2009, like Christ's body in the Rubens, effortlessly mirrors the act of weightless suspension and consequently opens up a profound formal and conceptual connection that spans precisely 400 years.
The image is part of Strand's Conjurations series, a project in which she stages illusions and records them in black and white and in perceived clarity, however what seems apparent cannot be true, these are after-all illusions. Photography in this instance makes clear what the majority of historical works in this exhibition try to hide. Whereas Rubens employs an act of defiance to gravity to emphasise the point of Christ's holy body, Strand's point is to highlight the impossibility of earthly weightlessness, Strand's preoccupation in this project is the treachery of images.
Three pieces of sculpture from the 20th century are represented in the exhibition. A loaded angular tower forces itself up towards the sky, worn bricks begin large and heavy and then gradually decrease in size and begin to float, and a small bronze by August Rodin sits suspended in action in the corner of the room. This bronze, Nijinsky (Study), about 1912, situated next to Wolfgang Tillmans' Dan, 2008, makes up the next significant parallel of contemporary and historical.
Rodin's sculpture depicts a celebrated ballet dancer; he appears coiled, ready to leap into dance despite the burden of the bronze he is cast in. A congruence of form unites Dan and Nijinsky. Tillmans' image shows us a shirtless, red headed male seen from above striking a seemingly impossible pose. The camera tricks us into believing an act of balance that shouldn't be possible. Both representations have outstretched limbs and appear on the cusp of movement, they are suspended in time, one in the 20th, the other in the 21st century.
All the works in this exhibition stand alone, they are all masterworks from their designated fields. However when one begins to look outside the confines of medium specificity, the themes and concerns used in art throughout history stand as a common representation for the issues that have beleaguered humanity from the very beginning of cognitive thought. Gravity, in this exhibition is a fitting polemic to bring important contemporary photography alongside great works that have helped shape the history of art.
- Christopher Thomas (cmlthomas88@yahoo.co.uk)
Falling Up - The Gravity of Art is on at the Courtauld Gallery, London, until the 4th September, 2011.