In order to celebrate the 400th anniversary of the Dutch arrival in what is now known as Manhattan, Dutch Seen, curated by Kathy Ryan, done in conjunction with FOAM, and on view at the Museum of the City of New York (through Sep 13), presents photographs by a group of Dutch photographers, with most of the work created in response to the anniversary.
The variety of the work in the show mirrors the variety of contemporary photography, even though it does need to be stressed that not each and every type and style of photography is present. But regardless, Dutch Seen can be taken as testament of the richness of contemporary photography: Here is how many different and extremely talented artists - with a shared cultural background - view the same topic matter.
Needless to say, with the images spanning a large range of styles and with so many different hands involved in the making of the work, the (re)viewer will inevitably prefer some work over the rest.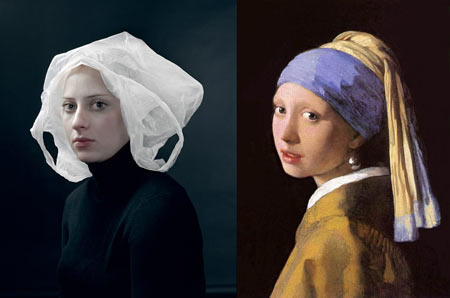 I first became aware of Hendrik Kerstens' photography two and a half years ago (on a trip to Amsterdam actually). Kerstens has been taking photographs of his daughter Paula, and Dutch Seen contains a number of new photographs. My main problem with this is not that the photos are necessarily bad, but that it seems things have become way too forced now. I could see how Paula with a baseball cap on her head (the Mets, if memory serves me right) is some sort of obvious take on the Manhattan theme (avid Yankees fans might disagree), but Paula with a napkin on her head? Or a plastic bag? Make no mistake, technically the images are very well done, and they are printed very nicely, and, yes, they do look very similar to Vermeer's Girl with a Pearl Earring painting (as you can see above); but at the end of the day, it is a young woman with a plastic bag or napkin on her head! I mean: Come on!
Well, you walk past those, and there's the first very pleasant surprise of the show: Wonderful landscapes by Misha de Ridder. About his series, the artist writes "It's that untamed and lush feeling of paradise [that settlers found here and] that I want to evoke in the viewer". He certainly succeeded doing that.
Wijnanda Deroo's photographs of the interiors of New York restaurants left me oddly unimpressed. First of all, many of them seemed technically lacking - noticeable colour shifts that should have been corrected weren't, and some of the images ended up muddier than they should have been. But technicalities aside, as a grouping they are too uneven. It's true, the diversity of the people living in Manhattan is reflected in the diversity of its restaurants. But still, this work left me cold.
Hellen van Meene's work (in the image at the top some of the photos can be seen in the partition on the left) is well known to regular readers of this blog. Working with adolescents and an assortment of various backgrounds - incl. a trailer someone is actually living in (he has to move it every week to another parking spot) - Hellen created her signature images.
Rineke Dijkstra did not contribute any new images to the show. Instead, there are some of her very famous beach photographs; these all from the Coney Island beach (in the image at the top, you can see one on the right). I will admit that I was disappointed about not seeing new work; but the photographs on display still shine as if they were taken yesterday - impressive!
I wasn't aware of Charlotte Dumas' work before. Her images show portraits of dogs in animal shelters, dogs that had been too wild for their former owners. Before seeing the show I had heard about the subject matter, and I will admit that I was very pleasantly surprised by these actually very touching photographs. They are certainly far superior to the images she has on her website (and unfortunately, I couldn't find any samples online). I went to an art school a little while ago, and one of the rules beginning photo students had been given was "no dogs, no cats". But in reality taking a good photo of a dog or cat, a photo that's not just some cliche or something for one of those many cutesy online sites with its millions of readers is very, very hard. See some in this show.
Inez van Lamsweerde and Vinoodh Matadin contributed a series of amazingly forgettable fashion photographs to the show. This kind of photography is not my favourite type anyway. Of course, there's nothing wrong with it, and it has its place - I don't mind it as an illustration in a magazine. But seeing these images next to so many other, truly inspiring photographs doesn't do them any good - they don't hold up next to a Rineke Dijkstra photo.
Erwin Olaf's photographs were another very pleasant surprise for me. I am not necessarily the biggest fan of his work, but his portrayal of a (fictional) well-to-do African American family in 1910, resulting in images which are almost exclusively black, is nothing but excellent. The artist calls his work "a dark comic strip of which I unfortunately do not myself know the content," and that's not a bad description at all.
After leaving the show and while writing this review I couldn't remember the difference between Morad Bouchakour's and Arno Nollen's photographs. The catalogue helped: Both shot portraits, Nollen's for the most part are more tightly cropped. There are lots for each artist. What they do show is the "mixture of so many characters in Manhattan" (Morad Bouchakour). What they both don't show is a particular regard for the subjects.
Jaap Scheeren's photography I found most provocative (even though "provocative" might not be the right word). I have the feeling, that it will confuse many people. It certainly is very playful, and it engages the viewer. Using an assorted group of slightly weird characters, some fur coats, a stuffed beaver bought on Ebay, a red plastic fish and more, Jaap Scheeren set out to "bend time, bringing the past and the present and the past to the present." Mission accomplished!
Lastly, there is Daniëlle van Ark's portrayal of art gallery openings: What would a portrait of Manhattan be without a display of its art world? Some of the images might rely a bit too much on various gallery visitors looking just like the people in depicted in the various art works, but I'm torn between thinking that that's actually what makes them especially interesting or that that's what takes away from viewing what these photos show as a whole.
Taken as a whole, Dutch Seen certainly is a success. Actually, I would like to see shows like this more often: Have a group of people interpret the same place of thing. Inevitably, some work shines more than the rest, and your assessment might differ from mine. Regardless, Dutch Seen is one of those shows you don't want to miss.